Challenge Day 2022
Principal Patrick Kelley put together a Challenge Day at Triton High School to help build community within the school that will take place February 14th through February 16th. 
Challenge Day consists of activities that help students open to each other. According to Kelley, who has attended a Challenge Day at another school, the Challenge Day representatives do a great job walking students and staff through becoming comfortable enough with each other to share stories. Throughout the day, students work in small groups called "families". This is meant to make it a little easier to open up. The goal of Challenge Day is to build safety and community within our students and staff at Triton. The activities will take place in the library and only 100 students can attend at one time, which is why it will be spread out over three days. Each day twenty staff members will need to participate, ten of those being academic teachers.
Mr. Kelley noticed an increase in disciplinary issues as well as an increase in students struggling with mental health issues at the beginning of this school year. He is hoping having Challenge Day will help with those issues. 
"One of the things we really want everyone to be able to see is their shared humanity." Said Kelley. 
The focus is on freshmen and sophomores because they missed out on the relationship-building part of middle school. Middle school is the years for the three towns to come together after being separated in elementary school. These years are crucial for making new friends and with the pandemic, it was a lot more difficult for students to do so. 
"I'm just excited for our ability to have our students better understand each other and for our staff to better understand our students and each other." Said Kelley. 
Jillian Guisto, freshman who attended Challenge Day this year, thinks it was a great way for the freshmen class to see that students share similar issues. Guisto, along with a few other freshmen really enjoyed the "cross the line" activity. 
"The leaders of Challenge Day put a line of tape across the library floor and asked questions about students and if it applied to you, you crossed the line, when students crossed the line, the rest of the students and staffed showed their support and love toward the people who were brave enough to cross or share." Said Guisto. 
According to Guisto, Challenge Day was a success and really allowed students to open up. 
"I think they should expand it for the upperclassmen too, everyone should have the amazing experience that Challenge Day was." Said Guisto. 
Maria Powis, another freshman that attended Challenge Day, also thinks it was a powerful experience for students. 
"I think that it was really helpful in building empathy within the students because we got a closer look at what people are actually dealing with." Said Powis. 
Leave a Comment
About the Contributor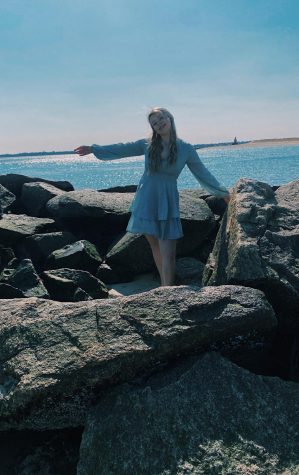 Madison Jacques, staff writer
My name is Maddy Jacques and I am a senior at Triton High School. 

Outside of school I'm either playing softball, hanging out with friends, or watching...