Homecoming 2021 Turns Into Spirit Week 2021
COVID-19 has affected the Homecoming dance, assembly, and the competitiveness at Triton High School.
Homecoming at Triton High School is going to be looking a lot different this year. Not only is it now called Spirit Week, but there are a lot of changes being made due to Covid. No one can really predict how it's going to turn out, the weather is going to play a big part in how the activities will work. 
Stacey Beaulieu, Triton's student council advisor, says our typical Homecoming isn't a true homecoming and it represents more of a Spirit Week, so the new name makes more sense. 
"By changing the name, I've freed that name up for somebody… to truly eventually make a homecoming weekend," said Beaulieu." 
Last year Triton was not able to have Homecoming because of COVID-19, so this year many students and staff are excited to be able to participate again.
Other than the name change, Beaulieu and the student council have made adjustments to the activities and the dance for this year. The classes will have to be separated to reduce the number of people in one room. Instead of having all freshmen, sophomores, juniors, and seniors in the gym at one time watching the activities, freshmen and seniors will be in the gym playing games while sophomores and juniors will be watching the skits in the auditorium. Then at some point, they will switch. Also, instead of decorating the gym, the decorations will be in the hallway by the main office. The space is much smaller than the gym so the decorations will have to be reduced to fit in the designated area. 
"The greatest goal would be the last hour of the day, (that) we're all outside in the stadium," said Beaulieu 
The last hour would be to announce the winners of each part of spirit week, so Beaulieu is trying to get everyone together, that way everyone would find out and celebrate the winners at the same time. 
While the location of most activities is still unknown, it is definite that the Spirit Week dance will have to take place outside, but it has been approved that students are allowed to bring a guest from other schools. Guests from other schools will need to fill out paperwork from the office and return it by November 17th. The dance will cost $10 if you get a ticket at lunch leading up to the dance or $12 at the door. Backpacks are not allowed at the dance. 
Some of the dress-up days have changed slightly. Wednesday, Nov. 17th will be Triton Logo Day, Thursday will be Decade Day, Friday will be Anything but a Backpack Day, Monday will be PJ Day, Tuesday will be Country vs. Country Club Day, and finally, Wednesday, the last day, will be Class Unity Day. This part of Spirit Week isn't affected by Covid as much and will remain mostly the same as previous years. Each class will receive one point per student who dresses up for each given day, so it's important that students participate. 
Each part of Spirit Week will be scored separately but then combined at the end, the class with the most points is the winner of Spirit Week. The Can Food Drive will be scored one point for each can. Students should bring in as many cans of food as they can to earn points for their class. The Penny Wars will go by whoever has the most pennies. Each class will have its own jar to collect pennies, you only want to put pennies in your own class' jar, but you can add dollars or other coins to other classes' jars to deduct points from their total. On Friday, November 19th, there will be a Leaders Club Volleyball Tournament. Students who either play or watch will earn one point each for their class. Each student that attends the dance on Saturday, November 20th, will earn one point each for their class. There will be a hypnotist show on Tuesday, November 23rd, one point per student will be awarded to their class. 
Joseph Galante, a math teacher and senior class advisor at Triton, says he doesn't exactly know the success or location of Spirit Week.
"It is really contingent on weather," says Galante. 
Many of the activities that take place during Spirit Week could be done outside so all students are together instead of being separated by class, but if the weather is bad everything will have to be held inside. As of now, they are trying to have everything outside, but it is unlikely that it will happen. 
Eliot Lent, one of the senior class officers at Triton says, "Spirit week is going to be fun this year regardless of the changes." 
Leave a Comment
About the Contributor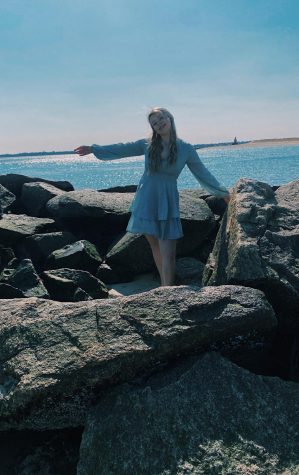 Madison Jacques, staff writer
My name is Maddy Jacques and I am a senior at Triton High School. 

Outside of school I'm either playing softball, hanging out with friends, or watching...