Restaurant Supports, but Grapples With New COVID-19 Guidelines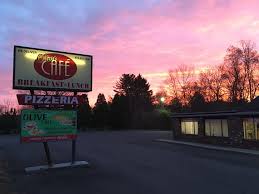 The effects of COVID-19 have caused serious issues from economic, to frustration with changing regulations this year, especially in the restaurant industry.
With Governor Charlie Baker's COVID-19 guidelines, the following changes have been put in place: Bars are closed, nightclubs are closed, and at restaurants, only six people are allowed per table and more.
One of the owners of the family restaurant Olive Cafe in Rowley,  Jeff Cerratani, gave  some insight on the difficulties of the guidelines for restaurateurs.
"You really have to adjust to volume," said Cerratani. "If your volume goes down you have to adjust what you're buying, how you schedule, and you have to adjust pretty much everything for the business. How the business is going to change from dining to-go, It's mainly adjusting to how you think your business will go, so if numbers are going down everything else goes down, or vice versa."
Baker's New Guidelines, effective on December 26th, 2020,  changed many things for those who go out to eat. Table size at restaurants are capped at six people, down from the previous maximum of 10, with a time limit of 90 minutes for those who are eating.
"Patrons will no longer be allowed to remove masks as soon as they are seated," said Lt. Gov. Karyn Polito said at a news conference December 8th. "Masks must be worn at all times unless eating or drinking. So this allows the server to be masked, and the patron to be masked, for instance when ordering your meal."
Other changes on December 26th include:
Musical performances at restaurants will no longer be allowed.
 Seating at mall food courts will also have to be closed starting Sunday December 28th.
Restaurant employees and customers must wear masks at all times, except when patrons are seated at tables.
Although indoor table service is allowed, the state encourages restaurants to use outdoor seating to prevent any uprising.
The capacity cap is at 25%
Since the new rules have been in place it's put a pretty negative burden on restaurants, by slowing down business, lowering the number  of customers coming in, changing the amount of food brought in, and changing almost everything that was in the normal weekly routine.
"We have reduced the number of seats and tables to adhere to the new guidelines," said Chris Cerratani,  one of the top chefs at the Olive Cafe. "So in turn have been scheduling less labor hours and buying less inventory due to the reduction of revenue." The new policies of course are to prevent the spread of COVID-19, but people don't seem to realize how detrimental this has been to businesses around the state.
One of the chefs at the Olive Cafe Mike Almeida was asked if he agreed or disagreed with  the new COVID-19 guidelines..
"As a Professional I have to look at it from a public health standpoint, my opinion on COVID itself doesn't matter," said Almeida. "Being a more responsible employee is what it comes down to, my own beliefs shouldn't affect a restaurant. As far as what Charlie Baker's doing it definitely has negatively affected all small businesses in the area, but I feel that it has slowed down and prevented more cases from occuring for our customers."
Before the holidays on December 22nd, Baker announced a new set of restrictions that requires Small Businesses to operate at 25 percent capacity. Governor Baker acknowledged the difficulties this puts on small businesses so he has released a $668 million relief fund that restaurants and many other small businesses are able to access.
Leave a Comment