The Stress in Student Athletes Life
Student athletes have a special secret talent behind the actual sport they participate in, which is balancing their school and work life just to be able to play sports. 
In Triton many students are balancing school sports and having a job. Triton Voice has talked to senior, Abbie Magee about how she balances cheerleading for the fall, winter, the upcoming spring season playing softball, working at the Clam Box in Ipswich, and school.
"It's really hard especially since you are expected to do all these things along with getting good grades and your parents rarely ever cut you any slack so I don't have a lot of free time," said Magee.
Many students are overly stressed and don't have a lot of free time. When balancing school and a job, they also worry that they aren't going to perform well in the sport. When students are in school they could be thinking about other things like what they have to do or how they are going to have to spend their weekends working or doing sports and school work.
Senior, Jacob Thissell plays lacrosse in the spring and has a job at a paint store in Beverly.
"Once lacrosse season starts the stress begins with tripling lacrosse, school and my job,"said Thissell.
Many parents seem that stress is a good way to deal with the real world and that they should be able to handle it. Meaghan Riccio of Triton voice spoke with her mother Heidi Riccio.
"I believe that some level of stress is okay for kids because it helps them prioritize and balance their life" states Dr.Riccio.
"All my free time goes to working and finishing my homework because I am usually at football or wrestling practice. My parents don't usually see how stressed I get balancing all of these priorities," said senior Kyle Noonan.
"Psychology Today" talks about the pressures parents put on their children to win. Sometimes, kids don't feel like they can live up to these standards. While thinking about their performance, they may also be thinking about their homework or their job which brings additional stress. 
Some parents don't understand that living in the 21st century could be harder because school, sports, and work can bring stress, but social media puts additional stress on kids seeing their friends hangout without them, because they can't fit friends into their busy schedule.
 Under all of this pressure, student athletes have a lot on their plate, but most handle it well. Balancing school work, having a job, and going to practice and games everyday is a lot to handle. It's up to us to help students manage stress. 
Leave a Comment
About the Contributor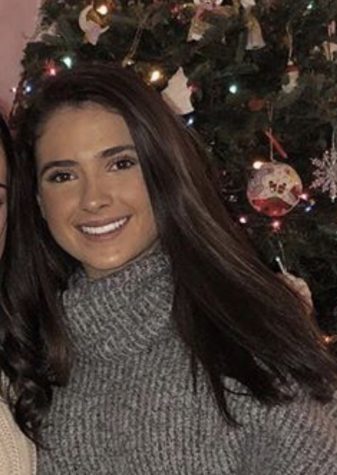 Meaghan Riccio, Writer
Hi! My name is Meaghan Riccio and I'm a junior at Triton Regional Highschool, I enjoy participating in cheerleading and lacrosse for outside of school...