Celtics Back to the Finals?
Boston Celtics on successful season and going forward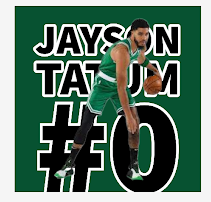 The Boston Celtics are getting scary for the NBA. As the 2023 NBA season begins, the Boston Celtics are a team with high expectations. After a strong performance in the previous season, the Celtics have continued to build upon their success and aim to make a deep playoff run. They added two-way guard Malcolm Brodgen to give the team even more depth on the roster. They also signed their head coach to a new deal to keep him as the coach of the team.
Matthew Sauris spoke about the game last night.
"The game against the Milwaukee Bucks was not even close." said Matthew Sauris
Max Ciaramitaro is feeling confident about the Celtics in the playoffs.
"They are winning it all this year!" said Max Ciaramitaro
Ethan Tate thinks the Celtics have the best duo in the league with Jayson Tatum and Jaylen Brown.
"Who's stopping the best duo in the league." said Ethan Tate.
The Boston Celtics are one of the most storied franchises in the National Basketball Association (NBA), having won a total of 17 NBA championships throughout their history. This year, the Celtics have had a strong season so far with Jayson Tatum averaging 30.2 points per game with Jaylen Brown averaging 26.7 points per game. The way that both these players can score when needed has been a big success to the Celtics season so far.
The Boston Celtics are having a successful season thus far due to their balanced team play, strong coaching, and contributions from both their young stars and veteran players. While there is still room for improvement, the Celtics have shown that they have the potential to be a dangerous team in the playoffs. With the talent and leadership they have on their roster, it will be exciting to see how far they can go.
Leave a Comment