'Riverdale' Review: Luke Perry and the Haverhill-Archie Comics Connection
A loyal viewer gives an honest review of her favorite show, along with a look into the history behind its origin.
As Kevin Keller approached Sweetwater River's edge to end his near-perfect summer, he found Jason Blossom's dead body with a bullet wound in his head. He quickly alerted his father – Sheriff Keller – and solemnly watched, along with Archie, Betty, Jughead, and Veronica, as authorities took away the body and examined the scene.
After that day, the students of Riverdale High School were never the same; spiraling into deeper trouble with death with each passing episode. That first episode ended the way each episode has since: the name of the show – Riverdale – in neon blue text accompanied by an eerie picture of Sweetwater River and its surrounding trees. The only thing left for viewers to do? Find out what happens next.
Riverdale has been in the news a few times recently because one of its beloved actors passed away on March 4, 2019. Luke Perry played Archie's dad, Fred Andrews, and was always a loving, supportive parent to Archie and all of his friends. The episode that aired after Perry's death had a brief "In memoriam." In the messed-up town, it is extremely rare to have such a parent. Now that Archie's anchor has passed on, will he be able to cope with his stress?
If you haven't recognized the iconic names of the characters by now, you may not know that Riverdale is based on the Archie Comic-books. This fact alone has drawn in many viewers (including me), if only for them to see what the gang was up to. These Archie characters began to appear during 1941 in MLJ Magazine's own comic series, Pep Comics. The gang slowly but surely rose to fame with the publication of the Archie Adventure Series comics in the late 1950's and the short-lived Red Circle Comics horror and fantasy imprint from the 1970's. The Archie Comics franchise launched its first official horror series – Afterlife with Archie –  in October of 2013, which began to explore more adult themes and carried the rating 'Teen+.' The success of Afterlife with Archie led to another horror series that now has its own television show with the title: The Chilling Adventures with Sabrina. Since then, Archie Comics has continued down the path of horror while also catering to the younger generations (sometimes too much) as shown through the release of Riverdale on January 26, 2017.
Another thing you may not know about Riverdale and the Archie Comics is that the original creator of the comics, Bob Montana, based them off of his own high school experience in Haverhill, Massachusetts. So, while the set of the show looks more like it's filming site – Vancouver, Canada – it's actually meant to resemble our own Haverhill.
"
Riverdale's second season premiere had 2.3 million same-day viewers, making it the biggest hit since the popular teen drama Thirteen Reasons Why, which debuted in 2017 as well."
This teen mystery drama began on the CW channel in 2017. After each season finishes, the full season can be found on Netflix, which is how I first came across the show. If you missed last night's episode and can't wait until you get home to watch it, the CW official app puts the most recent episode up on it's feed the day after it premieres. There, you can also find a few other episodes from the same season although they may not be in order and, as of right now, the app skips a few episodes.
According to theringer.com, Riverdale's second season premiere had 2.3 million same-day viewers, making it the biggest hit since the popular teen drama Thirteen Reasons Why, which debuted in 2017 as well. While Riverdale may mainly attract teenagers and young adults, the show attracts people of all ages. Some, however, still wonder why the show is still on television despite the clear success it's had – especially the recent announcement confirming a fourth season. Why does Riverdale deserve to premier it's episodes from 8 p.m. to 9 p.m. on Wednesday on the CW?
Jughead Jones (Cole Sprouse) narrates the happenings of the small town of Riverdale. As the episodes progress, more and more problems begin to appear – as they always seem to in television – in this supposed perfect town. The 'core four' – Archie Andrews (KJ Apa), Betty Cooper (Lili Reinhart), Jughead, and Veronica Lodge (Camila Mendes) – are forced to solve these difficult plot twists with the help of each other, their classmates – most prominently Kevin Keller (Casey Cott), Reggie Mantle (Charles Melton), Cheryl Blossom (Madelaine Petsch), and Josie McCoy (Ashleigh Murray) – and the parents of the main characters. Each season, so far, has had to do with death and finding the person responsible for causing it. There are, of course, familial issues throughout the show as well that need to be addressed. The most prominent being Veronica's father, Hiram Lodge (Mark Consuelos), a con – selling what they call 'jingle-jangle' – in the illegal drug business that says he wants the best for his family but constantly throws his wife, Hermione Lodge (Marisol Nichols), under the bus.
Though your average teen viewer may not know it, Riverdale incorporates much of the Archie Comics in it's captivating episodes. For instance, the majority of the second season is dedicated to finding a serial killer that calls himself The Black Hood. In the comics he is a sort-of anti-hero altogether. In the show, he believes his killing is justified by the victims' wrongdoings or 'sins' as he puts it. Another Easter-egg the show brings is the use of the titles 'The Red Circle' and 'The Dark Circle.' In the show, these are the names of Archie's groups of teenage vigilantes that he recruits in response to what he views as a lack of justice in his town (The Red Circle being the first group, The Dark Circle being basically the same group, only now with a slightly different name). In actuality, these titles are the names of the short-lived horror imprint and its rebranding more than 40 years later.
While the show has a few things that might be cool to a dedicated Archie Comics fan, these Easter-eggs are often unintentionally overlooked by the majority of viewers. Because of this, people that watch may be a bit confused or taken aback by the names (or, if we're being honest, they just breeze past the names entirely and accept it for what it is, no questions asked).
On top of this, Riverdale may sometimes lose more people than it gains. The show has been known to use teenage slang in a few episodes and, for the most part, it can be downright cringey. The show uses fan-made ship names such as 'Varchie' (for Veronica and Archie) and 'Bughead' (for Betty and Jughead) which may not be taken the right way by an older viewer. Would anyone unfamiliar with ship names be able to keep up, or would it be confusing? Even dedicated viewers such as my friends and I agree that it can go overboard with the supposed teenage lingo – especially when none of the 'teenagers' are actually teenagers anymore.
Little details and words like this may be losing people's interests and taking away from the actual plot of the show. I mean, we've been hearing about the farm since season one and we have yet to fully uncover its supposed mysteries. They seemed to throw it away for a few episodes of the third season altogether even though things were finally starting to come together.

Loading ...
Riverdale is a complex new story told by a familiar set of characters some have grown fond of over the years through comics. It incorporates an era of comic books into an era of television. The show may have flaws but what program nowadays doesn't? It is captivating from the first episode with cliffhangers that keep viewers wanting more. The high premier ratings will be able to keep the teen drama afloat and on the CW. There is still one more season we know of. Until then, I hope you'll wear Southside Serpents jackets with pride. Just remember, in unity there is strength.
Leave a Comment
About the Contributor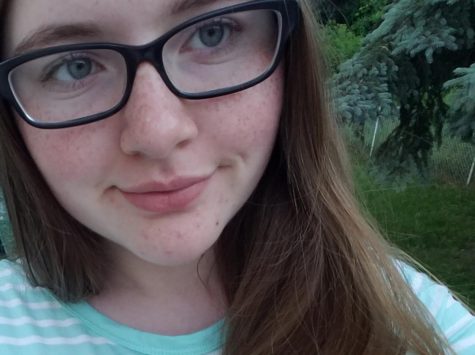 Glory Trelfa, Staff Writer
Hi, my name is Glory Trelfa. This year I am a Junior in high school. I am from Salisbury, Massachusetts and I live on Salisbury Beach. So far this year,...