Women March for Abortion Rights Across the Country in to Texas Law
Texas law, SB-18, Causes Marchers to storm towns.
Women and men stood shoulder to shoulder in downtown Amesbury holding signs in protest of Greg Abbott's abortion law.
Everyone was in a good mood, happy to be around people who shared a common belief. A woman had Munchkins to give to fellow protesters. Cars were honking as they went around the rotary. The energy was positive, despite the negative circumstance for the gathering. 
"All the conversations here of women who say they have been protesting this for decades, which seems, you know, just incredible that we still have to still be having this conversation about reproductive rights." Said Caitlyn Thayer, the Co-Host of the protest.
At 9 a.m. on Saturday, October 2nd, downtown Amesbury was filled with men and women of all ages fighting for the right to have an abortion. While there were over 500 protests across America on that day, most were organized by a small group closer to each individual community. Amesbury's protest was organized by Thayer and Cara Sullivan. 
"We wanted Amesbury to be a part of it. We know there's multiple happening in Boston, some to the North of us, but nothing was really happening around here, so we wanted to give a local option for people to come out and make their voices heard about reproductive rights," said Co-host Thayer. 
In May, Senator Greg Abbott of Texas passed a new bill that limits the rights of women. It took effect on September 1, 2021. According to SB-8 in Texas, any abortion after a "heartbeat" can be detected is illegal. Any citizen from any state can sue the doctor or Texan citizen who "aides and abets" in an abortion case (in Texas), and will recieve a reward of $10,000. For example, an Uber driver accepts a ride, and it happens to be to an abortion clinic. If for any reason it has to do with the passenger receiving an abortion, the driver can be sued because they were "helping" the parent get an abortion. 
Many right leaning represtatives or people in power are anti-abortion, or pro-life. They believe that the fetus is alive at the moment of conception, rather than the moment of birth, or when there is brain function. They believe that it's not the mother's choice whether or not to abort the baby in early stages, as the baby is alive, hence the common debate "Pro-life or Pro-choice." This ideology is why SB-8 was written and passed.
Many left leaning representatives are pro-choice. Their ideology is typically one of "we don't want you to have an abortion, nor are we endorsing it, but if it was what you need to do for whatever personal reason, it is your choice, (to an extent.)" This was the general ideology of the people at the march. "I believe it's nobody else's business," said Hamlen, "what you do with your body, up to a certain point. I mean if somebody was six months pregnant that would be a different story altogether. But [in the] early stages, I don't think it's anybody's right [but] a woman and her doctor and her partner."
One of the many glaring issues in this law is that most women do not know they are pregnant until after the six weeks have occurred, according to those against the new law. "It's genuinely so stupid because most people don't know they're pregnant," Said Emilia Joyce, a junior at Triton. "That law makes my blood boil." Many other people were not happy with this new law, and many people took to the streets in protest. There were over 500 women's rights marches throught the country on October 2nd, including some in our backyard. 
 Many of the protesters had been fighting for abortion rights and other issues in the same region since the 1960s and 70s, when Roe v. Wade was on trial and prior to that. A common feeling is that they are upset that the country is taking one step backwards after so many years. 
"I came of age in the 60s and 70s, so we fought very hard, and Massachusetts has really been forward thinking as far as providing women's rights," said  Barbra Finnigan, a protester in Amesbury. "And to see this kind of thing happening in Texas is horrifying to me."
Another issue that has come out of the law was that if a woman is not in medical danger, it is not an option for her  to have an abortion. This meant that if a woman or even a young child was sexually harrassed or is financially unstable, an option is taken away from her. "If a woman is raped or she has an abusive partner, it leaves her no choice,"  said Sally Hamlen, a protester in Amesbury. 
Eighteenth Essex Representative Tram Nguyen spoke to the protesters, as well. "[We cannot] live in a country, where half of the population cannot make choices for our own bodies." Said Rep. Nguyen.
Some people were protesting because an abortion has helped them live the life they are living now. "Unfortunately, my wife and I had to make a decision in order to save her life. And as hard as it was to make that decision, we were able to make that decision," said Matt Johnston. "And we want to make sure that every woman has a chance to make that decision if they have to, and it doesn't matter what the reason. It is their own personal choice."
Leave a Comment
About the Writer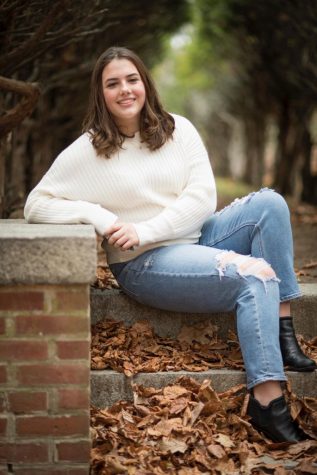 Haleigh Harris, Writer
Oh hey, didn't see you there! I am Haleigh Harris, a junior at Triton High School. I am entering my 10th year of playing softball, my 4th year of tournament...