Retrospective of Triton: COVID-19 Edition
Seniors Look Back at Their High School Career, Most Things Will Shock You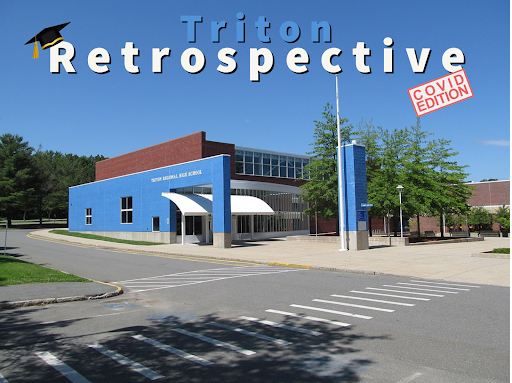 We were walking into a new atmosphere, breathing in the new fresh high school air, right next door to the middle school we just graduated from, as well as clogging the halls with as many people as possible. 
Freshman year was a struggle for many of us. Especially for the class of 2023. High school was new to all of us. We never had finals or midterms before, we had to navigate the halls for the first time, and some of us had to go to a classroom outside of the school. With new classes, new teachers, this year felt as normal as possible, until around February. During February vacation, an announcement went out to Massachusetts residents, made by the governor, that school would remain closed for another 2 weeks. Woo hoo! Extended vacation! That's what we all thought until March rolled around.
Another phone call, another unexpected change. Triton will be doing remote learning for the remainder of the year, as COVID starts picking up rapidly. This online portion would consist of weekly assignments, rather than one each day. Zoom meetings were optional, except if the teacher made them mandatory. Besides that, they were primarily used for extra help sessions with classes or if students needed to ask questions about assignments. Besides this, freshman year felt like an extended vacation to me, except being trapped inside my house for the majority of the time.
Sophomore year was upon us, and yet again Triton was doing remote learning, this time with a change. The school days would continue as normal, however, zoom meetings were mandatory, as there was a schedule, with class periods, and students had to attend the meetings. Assignments were as if we were in the building, except we were learning over a computer screen. There were challenges, especially when it came to needing help with assignments. 
A few months later, Triton was ready to open, this time with a hybrid-like schedule. Students were split into two cohorts, A and B. Students were allowed to go to school 2 days out of the 5, with Monday being remote days for everyone. Learning seemed to be better, with being actually in class for the first time for over a year. As time went on, COVID started getting worse, and we transitioned back to remote learning during the winter for a few months. As we transitioned back to remote, we got the word that our mid terms have been canceled. Before this, we have only taken midterms once, with no finals. As the seasons changed, it was time to come back to school, this time however, with all the students back in the building. Everyone had to wear masks, but this was no surprise as we already were beforehand. School slowly felt like it was going back to normal. 
"The restrictions for COVID were very challenging. The behaviors resulting from the disruption to your education changed a lot of how we do things in school. I feel that students have made great strides towards a return to normalcy." said Assistant Principal Mr. Joseph Celia.
Junior year was a decent year. The students would go back to school everyday, but still had to wear masks for the beginning of the year. Eventually, the mask ban was listed and things felt normal again. People could see faces of each other and school was as normal as could be. That year would mark the first year of finals for the class of 2023, which felt like a whole new experience. They went smoothly, as finals concluded the school year.
As senior year started, school was finally itself again. No more masks, hardly any covid restrictions, school was back to normal. Midterms made a final return for the class of 2023, as well as finals. The last 4 years at Triton won't feel the same as the next 100 years of Triton will.
In a recent interview, Mr. Celia said "The last 4 years have been very challenging with the pandemic and the effects of that on education. The restrictions for Covid were very challenging.  The increase in student agency has been the biggest change in the four years. I am very proud of the students at Triton.  It is an inclusive community that supports each other. I would like to see an Increase student involvement in the school community."
Mr. Trovato talks about his first year at Triton. "I was first hired as the basketball coach and then there was an opportunity to be a business teacher. This is the first time I work in the same school that I coach. Triton has been way less chaotic due to the fact of me working in a big city and now working in a high school. I have learned that the students are more responsible and know expectations. Next year I expect to be a little more organized in planning now that I have a good feel for the curriculum."
"When I approached high school things started to change. Sports became my outlet.  I started playing football and played all 4 years of high school as an offensive and defensive linemen. I tried out for basketball and played on Varsity my junior and senior year. It's funny now when I look back that I was too big to play sports and now, because of my size, sports are something I excel at. I think this class will be one of the only classes to be affected by covid academic wise. I will never forget receiving that call in March that Triton will be doing remote learning for the remainder of my freshman year. Most of my sophomore year, I was doing remote learning as well and it really hurt me academically because I learn better in a classroom. Eventually, Triton ended up doing a hybrid schedule where you would come in half of the week and the rest of the week online. This was the start of going back to school and it finally felt normal again. The transition was weird to get used to due to the fact students were in masks. My Junior and senior years of high school really started to become normal for me. After halfway through my junior year there were no mask rules or restrictions at all. All I know is that I don't know what I would do if I had to have my senior year be online and not see any of my friends because I think that would hurt my social skills and eventually how to communicate with people. Greeting teachers and students everyday while walking through the halls will never be the same. I felt very welcomed when I was attending Triton for my four years of high school and I want everyone to feel the same. I'm really going to miss going to Triton."
Leave a Comment
About the Contributors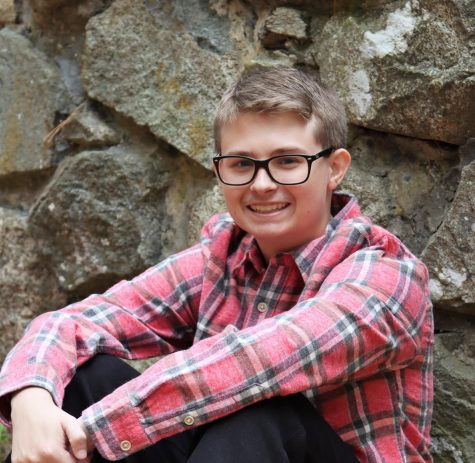 Nate Eaton, Staff Writer
Hey there! My name is Nate Eaton and I'm a senior at Triton High School. Outside of school I live with my family of 5 as well as 4 pets at home. An older...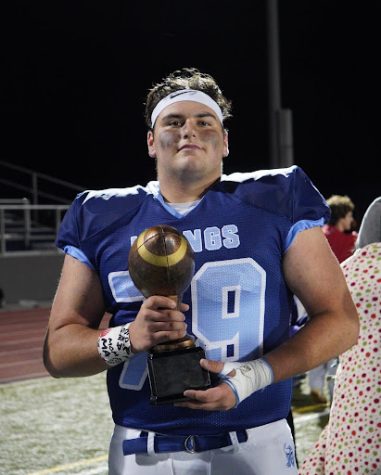 Luke O'Leary, Staff Writer
Hi! My name is Luke O'Leary. I'm a senior at Triton High School. I play varsity football, basketball, and track and field. I have a sister in the 8th...