The Legacy of Mr. West
A Review of Kanye's Greatest Hits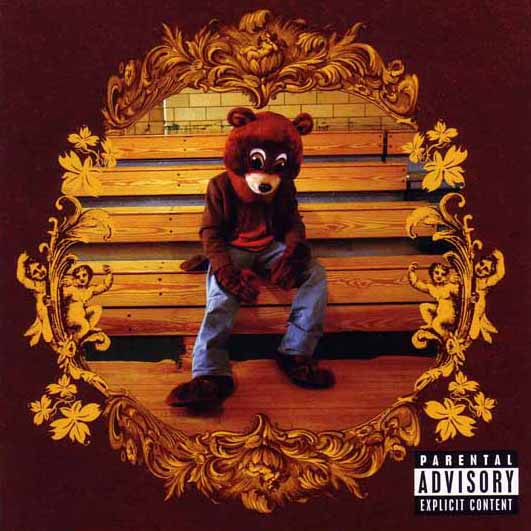 Kanye West can never go long without being in the news. Most recently, for receiving a Sixty-Eight Million dollar tax return in October and crediting it to his becoming a born-again Christian, as well as for purchasing a nearly Fifteen Million Dollar, 6700-acre ranch in Wyoming.
But, as this February marks the 16th birthday of West's first album, The College Dropout, Triton Voice reflects on the famous rapper and producer's legendary discography. Below is Kanye West's discography, ranked worst to best (excludes collaborative efforts such as Kids See Ghosts and Watch the Throne). 
JESUS IS KING
Kicking off the list, Kanye released JESUS IS KING very recently on October 25, 2019. The album was quite a shock to Kanye's fans everywhere, as it was his second completely clean album but it was also a gospel album all about his faith and love for Jesus Christ. The album leads with roaring opening track Every Hour which features Sunday Service Choir. Highlights on the album include Follow God, Selah, and On God. The album is very cohesive, for better or worse. The reason this album is so low on the list is due to the lack of variety in themes, features, and genre. This album? A solid 6.2/10
808s & Heartbreak
808s & Heartbreak was released on December 2, 2008. Kanye's other completely clean album, this project features smash hit Heartless. Aside from that… there's not much here. Certainly, Coldest Winter features some of Kanye's most prestigious production and Robocop which was a decade-defining track. Not to mention, the auto-tune on this album has aged terribly. Honestly, this album can be a bit of a bore, but certainly a pleasant one at that. This album? A solid 7.1/10.
Graduation
Despite this album being debatably his most influential album, it certainly hasn't aged well. Graduation was released September 11th, 2007 and was a smash hit, and some consider it to be Kanye's most successful album. That being said though, there are only a couple of strong tracks on this album, including the revolutionary Stronger,  glamorous song Flashing Lights, and the frequently sampled Good Morning. Most of the samples on this album are hit or miss, some being terribly outdated and others being timeless. Where this album loses the most points is with the song Drunk and Hot Girls where the Mos Def feature is left behind. This album? A light 7.5/10, just slightly above 808s and Heartbreak for how ground-breaking its' release was.
ye
Coming out the summer of 2018 (June 4th,) Kanye produced this whole album in Jackson Hole, Wyoming, which is the most economically imbalanced city in the United States, as well as the least populated state. 'Ye' wanted to be secluded when he wrote ye, so that he could most accurately display his bi-polar disorder. The album art itself features a quote of Kanye's stating "I hate being bi-polar/it's awesome". Though fascinating, and at times sonically beautiful with songs like All Mine, Lift Yourself, and Ghost Town. If this album were a little longer, instead of a slim 7 songs, it would probably rank higher on the list. This album? 7.8/10.
Yeezus
Some have considered Yeezus, released New Years' Day, 2013 to be Kanye's worst album. However, over the years it has garnered somewhat of a cult following, some praising Kanye for his industrial sounding beats and his brash lyricism in bars like "Now you sittin' courtside, wifey on the other side/Gotta keep 'em separated, I call that apartheid" in the song "Blood on the Leaves" (which samples Nina Simone's Stange Fruit.) Other slaps on this album include songs like "Bound 2" and the bombastic anthem "Black Skinhead". This album? A solid 8.4/10.
The Life of Pablo
When The Life of Pablo was released on February 15, 2016, the world stops. The lyrics "I feel like me and Taylor might still have sex / Why? I made that b*tch famous" from the fourth track on the album, "Famous". This lyric alone took the world by storm and started the infamous beef between pop/country starlet Taylor Swift and Kanye West. Jabs aside, TLOP remains one of Kanye's strongest. Opening the album is "Ultralight Beam", a beautiful number sung by a choir and Kanye, featuring artists such as Chance the Rapper, Kelly Price, and Kirk Franklin. This album has it all; pop, R&B, rap, electro, and even undertones of gospel and prayer music. This album? A strong 8.7/10.
Late Registration 
Kanye's sophomore album was released on August 25, 2005. It was released a little over a year after College Dropout. With such an amazing premier album, it must be hard to top it. Though he might not have succeeded past its' predecessor, the album certainly delivers some of Kanye's funniest and most relatable lyrics. The grand slam of a single, "Gold Digger", delivers the hilarious "From what I heard she got a baby by Busta / My best friend said she used to **** with Usher / I don't care what none of y'all say, I still love her." Other highlights on the album include "Drive Slow", "Crack Music", and "We Major". This album also births Kanye's favorite sample, with the song "Wake up, Mr. West!" This album? A solid 8.9/10.
The College Dropout  
College Dropout was released on February 20, 2004. Instead of composition, what makes College Dropout special is simply its replay value. The songs are shorter, catchier, and less specific, but still contain some of Kanye's best production and bars. On this album, Kanye raps about his come up from living in Chicago and working at the Gap, to becoming the pink polo wearing legend that we know and love. This project is also laden with skits criticizing American culture. Beyond that, the album genuinely doesn't have a bad song. With hits like "Jesus Walks", "Slow Jamz" and "Spaceship", this album certainly earns its spot at number two. Not to mention, this album still holds up after nearly two decades. This album? A solid 9/10.
My Beautiful, Dark, Twisted Fantasy
Released November 22, 2010, My Beautiful, Dark, Twisted Fantasy was recognized as an immediate classic. With all the top-charting artists of the decade featured on at least one track, this album easily has Kanye's best composure and overall beat-making. With some of Kanye's longest songs, the album is pushing two hours, and not one minute is a bore. This album hooks you from the first track and finishing it feels like watching your favorite TV show come to an end. MBDTF has some of Kanye's most powerhouse hits, including Power, Runaway, and Monster. In terms of production value and composition, this is Kanye's best album. Kanye himself told Zane Lowe of BBC in an interview, "I showed people that I understand how to make perfect. Dark Fantasy could be considered to be perfect." An undeniable masterpiece, this album is without a doubt Kanye's best, and easily earns a 10/10.
Leave a Comment
About the Writer
Zach Johnson, Staff Writer
Hi! My name is Zach Johnson, and I'm a junior at Triton High School. I spend most of my free time in the gym or hanging out with friends, or playing...