Review: Dos Amigos
A review of a burrito restaurant in Newburyport
Even with the change of the seasons and more days that allow outdoor seating, I still routinely find myself at the same places in Newburyport. Coffee at PICR, pizza at Anchor, chowder or lobster at Bob's Lobster or, on a special occasion, some steak and fries at Michael's. Needless to say, I am a creature of habit.
It has been a minute since I last tried a new appetizer at Agave or a different pasta dish at Giuseppe's, so it is easy to forget that Newburyport's food scene offers so much more than pizza, burgers, and fries. That is why I recently found myself at Dos Amigos.
Founded in Portsmouth, New Hampshire, by Joel Harris and Jay McSharry in 2003, Dos Amigos claims to offer fresh, healthy food without the Whole Foods price. They now have three other locations in Dover and Concord, New Hampshire and Newburyport, Massachusetts.
At their Newburyport location, they offer a selection of burritos, tacos, bowls, quesadillas, nachos, salads, sides, a kids menu, and a variety of optional add-ons and toppings. Going the extra mile, they have weekly deals to further reduce their prices. Such days include Burrito Monday, Taco Tuesday, Wild Card Wednesday, and Kids-Eat-Free Sunday.
They have plenty of seating, and customers could also walk down to the boardwalk with your dinner.
At their Newburyport location, I tried a chicken burrito, beef burrito, and the nachos 'for the kiddos,' which was just tortilla chips and melted cheese (I have simple tastes). Each burrito came with a side of tortilla chips, with the serving sizes being less monstrous than that of Agave, which I appreciate; I like to be confident that my jeans won't burst after I finish my meal.
Both the chicken and beef burritos were very good; a little aftertaste of heat followed each hearty bite that was filled with meat, rice, and spices. I am very picky about the heat in my food – I can handle a little spice, and in certain cases I crave that spice, but after a certain point (a very, very mild point) I crumble like a little baby. The heat in these burritos was nice and subtle. It didn't alter the experience of the meal in a bad way, but it added a little something to the dish. The house-made tortilla chips were also very good and, like I mentioned before, came in just the right serving size to go with the hefty burrito.
What I was most excited for was my nachos, and yes I understand that what I ordered was just tortilla chips with melted cheese, but I was excited nevertheless. One of the reasons I ordered the kids nachos was so that I could finish it, and it was the perfect size for me to enjoy and still be able to stand up afterwards. The top layer was covered with a perfectly golden cheese which stuck to some of the chips and tasted so good.
However, this is where the praise ends. Upon peeling back the first hefty layer of cheese, I noticed that the only cheese that melted was the top layer. The rest of the dish was basically tortilla chips topped with shreds of cheese that were straight out of the Kraft cheese bag you get at the grocery store. I was literally dusting off cold cheese and just eating plain tortilla chips. My immediate thought: what eating establishment can't do nachos? The type I ordered had only TWO ingredients, chips and cheese, and that couldn't even be done the right way. It's a real shame because that first layer was nice and melty.
"
My immediate thought: what eating establishment can't do nachos?"
— Author
Obviously, I experienced an unexpected disappointment that rocked me to my absolute core. Will I ever recover? Maybe, but right now I'm still a little salty and I wonder: can time really heal all wounds?
Of course, most people probably go to Dos Amigos for something other than the nachos. The burritos were very good and the tortilla chips were perfectly crunchy. I'll admit that I did enjoy the tortilla chips I salvaged out of the train wreck of nachos I ordered and I also really liked the burritos I tried. Overall, I give this place four stars out of five. I would go there again, but only when I specifically want a burrito or something of that nature.
My kitchen is under construction this year, so I was quite sad to remember that I couldn't go home to make nachos of my own. That is until I found this recipe from William Sonoma for Grilled Nachos. Great for a regular summer day, or for those of us who are oven-less at the moment!
Ingredients:
2 tsp. vegetable oil
1/2 lb. fresh chorizo sausage, casings removed and chorizo crumbled
1 1/2 bags (each 14 oz.) tortilla chips
3/4 lb. sharp cheddar cheese, shredded
3/4 lb. Monterey jack cheese, shredded
1 can (16 oz.) refried beans
1/2 cup pickled jalapeño slices
1/4 cup diced tomatoes
2 Tbs. minced fresh cilantro
1/2 cup crumbled queso añejo cheese
Guacamole
Salsa for serving
Sour cream for serving
Directions:
In a fry pan over medium heat, warm the oil. Add the chorizo and cook, stirring often, until browned, 6 to 7 minutes. Transfer the chorizo to a paper towel-lined plate.
Preheat the center burners of a gas grill on low and the outer burners on medium-high for 10 minutes.
Meanwhile, assemble the nachos: Place a single layer of tortilla chips on the bottom of a grill tray. Sprinkle one-fourth of the cheddar cheese and then one-fourth of the Monterey jack cheese on top. Place several spoonfuls of refried beans on the cheese. Sprinkle one-fourth of the chorizo and then one-fourth of the jalapeño slices on top. Repeat with the remaining ingredients to create 3 more layers, making each layer slightly narrower than the previous one so the nachos resemble a pyramid-shaped mound.
Place the tray over the center burners on the grill, close the lid and cook for about 7 minutes. Turn off the center burners, keeping the outer burners on medium-high, and continue cooking, covered, until the top layers of cheese are bubbly and the bottom layers are evenly melted, about 3 minutes more.
Remove the tray from the grill and top the nachos with the tomatoes, cilantro and queso añejo cheese. Serve immediately with guacamole, salsa and sour cream on the side. Serves 10 to 12.
Leave a Comment
About the Contributor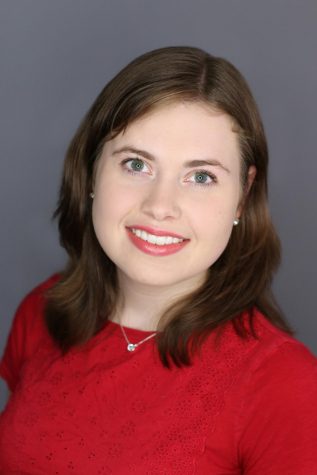 Jacqueline Downs, Staff Writer
Hi, my name is Jacqueline Downs, 18, and I am a senior at Triton. While this is my first year in Journalism, so far I have really enjoyed reporting on...