A Day of District Arts
A breakdown of the day praising Triton's arts programs throughout the district and why it matters.
Hang on for a minute...we're trying to find some more stories you might like.
Students approaching their teachers the day before to collect work they'll miss. Band members double-checking their instruments and getting that one tricky section right to give their best performance. Chorus kids saving their voices to give it their all. Drama students perfecting the choreography and re-reading their lines. Winter guard members making sure they know when to get flags and when to switch to sabers. Throughout Triton's schools, all of these things can only mean one thing: The District Arts Festival.

"

"It is […] a chance for parents and families to see where their kids can go, or, in the case of older students, realize just how far they have grown through their work in the arts.""

— Sue Densmore

Triton High School hosts an event known as the District Arts Festival. Each year, a day is dedicated to each aspect of the performing arts that Triton has to offer and consists of performances from each of the arts as well as some other events such as karaoke and a pizza dinner. While all of the events take place at the high school, band and chorus members from the elementary schools (Salisbury, Newbury, and Rowley) and from the middle school are welcome to join.

"I was much less stressed having done it [once] before knowing what to expect because it is a pretty substantial undertaking to put on a festival of that size," said middle school band and music teacher, Todd Roberts.

The day began around 8 a.m. as students from the high school started setting up approximately 200 chairs and 150 music stands for the combined number of band students, another 150 or so chairs for spectators on the floor of the gymnasium, and risers for the combined number of singers. After this, students from each of the elementary schools began to arrive. Everyone was crowded into the auditorium where a few songs from this year's musical, Spamalot, were shown.

Afterward, students from each of the arts programs broke into groups for practices. These were followed up by more preparation, an hour-long concert dedicated solely to the more exclusive programs (jazz band, women's choir, men's choir, select choir, etc.), and an hour or so of karaoke.

Next was a pizza dinner, which was said to cost about $1,100 for all of the students, chaperones, and faculty that helped with the event.

At the end of the Festival, there were two and a half hours worth of performances that family and friends were invited to watch. First, the winter percussionists performed, followed shortly after by the winter guard. This took place in the middle school gym. Next, the elementary schools performed together in the high school gym. Next was the middle schoolers, then high schoolers. To wrap it up, every singer sang together, then every band member played together for two final pieces.

Program coordinator and high school band and music teacher Susan Densmore has been a part of each and every Festival since it began 10 years ago in 2009. She said she believes it's a wonderful opportunity for every performer in the district.

"We want to give the younger kids a great experience, and open their eyes to all the possibilities of their future in the district's program," stated Densmore. "Getting a chance to see some of the musical, see the upper-level groups, and work with students that have been where they are and grew into leadership often inspires them to realize that they, too, can do this."

The upper-level groups are often made up of some similar students. Although each group is said to be beneficial to younger students and fun for the people involved, performing during the Festival can turn out to be especially draining. One of these students is sophomore Anthony Mariniello.

"I'm in jazz band, concert band, singers (chorus), jazz choir, men's choir, winter percussion, and I work as part of the stage crew for the musical, so I had a very busy day," stated Mariniello. "At one point in the day, I was literally supposed to be in two places at once! It was insane but I love what I do."

The District Arts Festival is a day Triton dedicates to the fine arts of the district. It lasts an entire school day and then some – this year it was approximately 15 hours long – and can turn up tiring for some. The day is seen as important for those who care so much for the programs Triton has to offer that aren't academic.

As Densmore stated: "It is […] a chance for parents and families to see where their kids can go, or, in the case of older students, realize just how far they have grown through their work in the arts."

Made by chorus and Viking TV teacher Bob Lathrop and his Viking TV students.
About the Contributor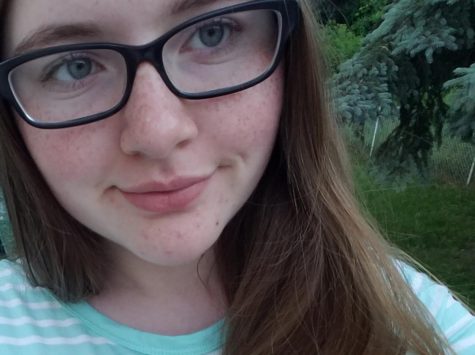 Glory Trelfa, Staff Writer
Hi, my name is Glory Trelfa. This year I am a Junior in high school. I am from Salisbury, Massachusetts and I live on Salisbury Beach. So far this year,...