Mental Health Awareness
Who to talk to, what to do, and how to cope with mental health struggles.
Hang on for a minute...we're trying to find some more stories you might like.
"Every second school is in session, whether they are on my case or not," says school adjustment counselor Mrs. Rebecca Bibeau when asked how often she helps students who are struggling mentally.
October is not only the month of ghosts, pumpkins and sugary treats, it is also the official month of Mental Health Awareness. During this time, Triton Voice is acknowledging the everyday mental health struggles that both adults and students deal with in and out of school.    
Mental illness comprises depression, anxiety, schizophrenia, OCD, ADD, ADHD and many more disorders. A lot of people struggle with these disorders each day. According to the World Health Organization article, "Mental disorders affect one in four people," 450 million people suffer from these conditions at some point in their lives.
It is important for people to know that mental health is just as important as physical health, and one should seek help if they think it is necessary. There are many resources here at Triton that students can take advantage of, and these resources are just a few feet away.
"Mr. Celia works with the majority [of students]. I specialize in the Reach program, but students can come see me anytime. You can go to guidance, the nurse, any trusted adults or your advisor," said Bibeau. She said she helps roughly 15 students with problems like these each day.
Talking about one's own struggles can be challenging at times. According to the article "How to Talk About Mental Health Issues," by Child Mind Institute, "It can be hard to speak up, and even harder to know how to approach the conversation- who to talk to and what to say."
Juniors Karoline Jacobs and Emily Howe agreed to give Triton Voice insight on what to do and what not to do when struggling with poor mental health, specifically anxiety.
"If you get anxiety, you don't want to avoid it. It doesn't help to keep that stuff in. You need to express yourself," Jacobs said also stating that if you stay quiet about it, it just builds up and gets worse.
Unfortunately, there are times when one is  physically alone during a panic attack or a time of struggle. Those are times to figure out coping methods and to understand how to help one's self when others might not be there to help.
"When I am feeling anxious, I have certain people I know I can talk to. But if I don't have anyone at the moment, I just listen to music or watch Youtube videos to distract myself," says Howe, "I take a deep breath and try to think about a moment when I was really happy."
Just because October is over does not mean that the awareness has to be. Reach out to those who are acting differently, ask for help if you feel like you need it, and think positive thoughts-you are not alone.
About the Contributor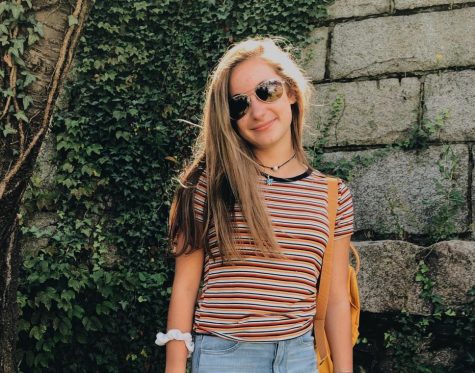 Kaylyn Pesaturo, Staff Writer
My name is Kaylyn Pesaturo and I am a 17 year-old Junior here at Triton High School. For the school paper, I like to write entertainment news that our...