Triton Juniors Enjoying Fundraising Success
The class of 2024 is raising significant money in the first portion of the school year
This fall, Triton's junior class officers have turned heads because of the money they have generated through various fundraisers. It is not the first time the 2024 class officiate have gained school-wide attention for their class; in November of 2021, they won the Spirit Week Skit, which all four classes take part in each year.
"The making of the skit was really fun," said junior class officer Cam Neary in a recent interview. "…[the group] would all just spitball ideas and then I created a general outline of how we could tell that story." The skit involved members of the class acting as various members of the faculty, and it finished in first place amongst all four classes.
After a 2021-2022 school year which included successful skits, fundraising, and activism with the school, this years 2024 class officers (Douglas Aylward, Elise Blanchet, Andrew Doherty, Cam Neary, Ben Norton, Molly-Porter Crean, and Ryan Walsh) wasted no time getting back to work. Most notably, their cider donuts were a huge hit, collecting $4,500 from patrons around the school.
"The donut selling process is probably my favorite activity we do in the year," Neary said. "I got the opportunity to walk up to people I had never talked to or even didn't like me and just beg them for money." Of all the officers, Neary sold the most donuts, selling just over $1,400 worth.
"There is an excitement factor that comes with the donut fundraiser," said junior John Prendergast when asked why he thinks the donut fundraiser has been so successful. "It's a thing at Triton that everybody looks forward to. Everyone loves cider donuts, and that feeling when I open my first box of them every year is unmatched."
After that, the junior officers ran their pie-in-the-face fundraiser for the second straight year, where each of the officers were pitted up against faculty members and whoever raised the most money got to pie the other in the face. Last year, $800 was collected, and it was brought back once again this fall. The Wednesday before Thanksgiving, students who were gathered in the gymnasium for various activities got to see the event take place.
Outside of the fundraising realm, the juniors are proving to be very qualified to lead the class. Douglas Aylward, for example, received the Massachusetts Senate Citation during Triton's Veterans Day Memorial.
"It was a big honor for me and I'm very happy that I got to be a part of that and a part of putting that together to honor veterans," said Aylward when asked what it meant to him to be recognized in the manner he was. "Obviously it's not about me, it's not about any one person, it's about recognizing these people and getting a permanent monument there for our veterans, but I was definitely happy that I was recognized for my work on it because I'm proud of it but it's not about me and I would have done it anyways."
Triton's 2024 class officers look to build off of their terrific start to their high school careers, and to the 2022-2023 school year, by continuing to raise significant funds for the school, with expenses like prom on the horizon later in the year. Outside of fundraising, they will look to continue making their mark on the district as well.
Leave a Comment
About the Contributor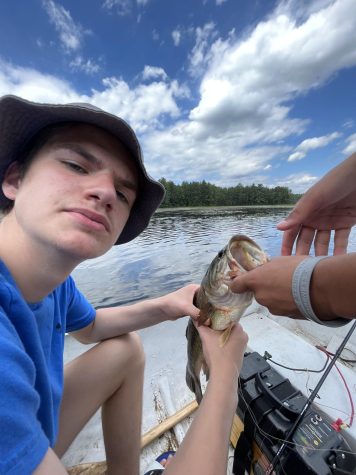 Aiden Szymanski
My name is Aiden Szymanski. I am a junior at Triton High School and a staff writer for the Triton Voice.

Outside of school, I keep myself busy with...