Triton Against Bullying
Triton holds its first ever Unity Day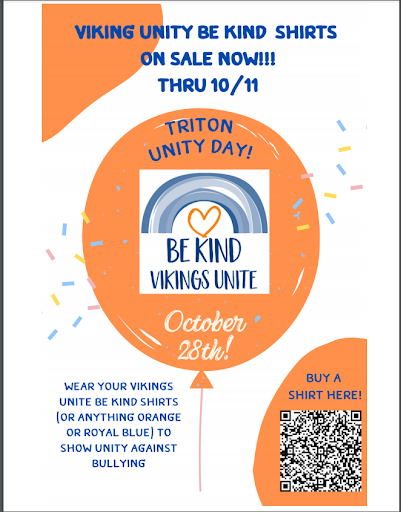 At Triton High School bullying has always been a problem like in many other High Schools, yet Triton took it a step farther in holding a Unity Day, to support students who have been bullied.
On Friday October 28 Triton had its first Unity Day in order to speak out against bullying. All students and staff were asked to wear orange, blue or a "Be Kind" shirt in order to show their support for anyone who has been bullied. 
"Unity means to bring us together", said Ms. Christian, a Triton High School Guidance counselor. As Christian works in the Guidance Department she  sees some of the results of what bullying does to students first hand. 
Bullying has been a problem in schools nationwide. Triton has taken the opportunity of Unity Day to speak out against bullying and make it known that we support anyone who is or has been bullied. This day highlights the idea that we are all a community with something in common. Nobody will tolerate actions of bullying. Triton's DECA program, a club that prepares students to be leaders and entrepreneurs in marketing, finance, hospitality, and management, has designed "Be Kind" shirts and posters that you can see all around the school.
Theresa Karol, principal's secretary posted this statement on the Class of 2024's Google Classroom, 
Who's involved? Everyone! DECA will be leading the charge. DECA will be creating the marketing, advertising, and promotional material to get the message out to the community. Promotional material will be put in school announcements, displayed throughout the school, and promoted on social media.
"When we are trying to develop as a community we all struggle with our problems", Said Karyen Cassidy, Triton's new career counselor. Cassidy also being a class advisor announced  that Unity day was going to be on  October 28th. This was shared in hopes that students and staff would dress in certain colors to be able to come together as a community but also for advisors to spread awareness for bullying and the causes of bullying. 
"I think it's awesome", said Joseph Celia, assistant principal of Triton High School. Celia's point brings up the fact that  this day brings attention to things that need to change in our society in order to make it a better place. Being in an environment where you are constantly being picked on is something nobody wants, and Unity Day was made to make sure this doesn't happen. 
Students around the school were involved with the event showing their unity and how they are truly against bullying. Advisory teachers were asked to talk about the upcoming Unity Day. They explained the effects of bullying and what we can do to stop it.
"Not many people knew that this day was happening but I still think it was a success. It's good for school to recognize issues with bullying and try to keep everyone together, "said Alanna Sparks. 
Many schools around the Triton area have not participated in a Unity Day like Triton has. 
"I wish that my school was able to represent unity like this and recognize the issues with bullying,"" said Katie Skafidas, a Junior at Amesbury High School. 
We get information from teachers, faculty, and students within the school that show how this event has affected the school but also to show what people think of the event as a whole. We talked to Guidance Counselors, Principals, and also fellow students to get some insight but also were able to show how these people  truly and really cared for the well being in the school. Next year Triton hopes to continue this new tradition. Hopefully there will be more events and news about Unity Day to try and get more of the school involved. 
Leave a Comment
About the Contributors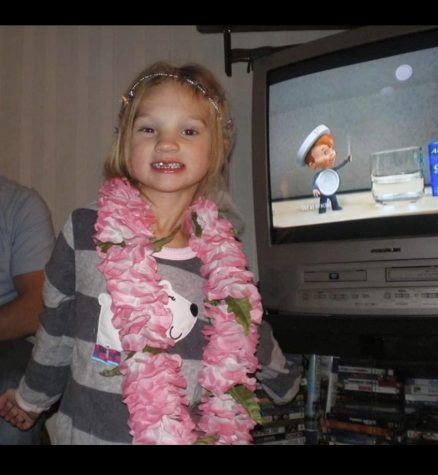 Emma Coco
Hi! My name is Emma Coco and I am a junior at Triton Regional High school. Inside of school I am a part of the student council and outside of school you...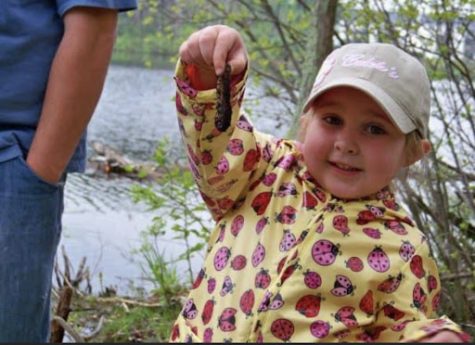 Molly Porter - Crean, staff writer
Hey! My name is Molly Porter- Crean. Currently I am a Junior at Triton High School. Within school I am a part of Student Council, Community Service, and...