Triton Football Star Emerges
Two dimensional Triton football player Cole Piaseczynski is making his mark this season – both on and off the field
Last season, Triton football's Cole Piaseczynski finished the season with two touchdowns – one of which being an interception he took to the house against Lynnfield to cap off an emotional victory with which the Vikings clinched a postseason berth.
"It was really big for the team – the whole program – to be able to make the playoffs," Piaseczynski said. "We played really well as a team that game. Our defense played really well at the end on the goal line. Our coaches did a very good job preparing us."
"After the Lynnfield game I was ecstatic," said senior running back and linebacker Nathan Miller, Piaseczynski's teammate. "I remembered the year before they had beaten us and they had posed up in front of our scoreboard and stuff like that… it felt so good to beat those guys."
After consistent season-long play his sophomore year – starting at strong safety and getting a healthy chunk of snaps offensively – this fall Piaseczynski has truly emerged as a two dimensional Cape Ann League star. After months of offseason work, Piaseczynski's breakout season started late in the summer, when he was named one of five team captains amongst four other senior teammates.
"I love representing the team," Piaseczynski said. "It's good for a lot of the younger guys to look up to someone."
"I mean the kid stands out," said Triton varsity football head coach Eric Burgos. "Not just by his play, but by his demeanor, how he carries himself, how he approaches his own personal health, how he approaches his game… if we all emulated what he does then that's exactly the program I envision."
Miller also spoke to the honor and pride that came with being named team captain. "I was absolutely thrilled to be [named] captain," Miller said. "Ever since I was a freshman and Ethan Tremblay and Barry Nangle were my captains, I had always aspired to be like that and have that leadership role on the team. I was overjoyed when coach read my name out on that list."
Then came the start of the season. After the first two games of the season against Randolph and Shawsheen, Piaseczynski had already doubled his touchdown total from the season prior.
Then, a week later, with a healthy fall crowd in a home-opening game against Newburyport, Piaseczynski again came through for the Vikings. The junior captain scored all three touchdowns for the home team, whose defeat of Newburyport marked the schools first 'Border Battle' victory in eight years.
"It was a big deal for the program. We put a lot of time into the preparation. It paid off in a big way," said Piaseczynski.
"It was cool to get the monkey off the programs back," said Burgos. "Having been a part of three of these games, I was just tired of getting beat. When you lose that game it's a different feeling, it's not an average loss, you know?"
"That was incredible," Miller said. I think it was such an important thing because nobody that was on that field had ever known what it's like to beat Newburyport… and we had just seen over and over again 'Newburyport beats out Triton'… we'd heard about this phantom trophy that we had never seen and it was so thrilling to finally get to hold it, and bring it to Byfield."
After a three touchdown performance in a narrow loss to Amesbury, a forgettable defeat in North Reading, and a 40-10 win over Ipswich, the Vikings now find themselves 3-3 on the season. But for Piaseczynski, there is no use dwelling on the past. 
"We just need to believe in ourselves. We have the skill and the coaching to beat really anyone in the area. We were able to showcase that against Ipswich. We just have to keep rolling so we can get into the playoffs hot."
"Mindset right now is playoff football," Burgos added. "We said that, based on the position we put ourselves in unfortunately, our playoffs started last week against Ipswich. Every game is a must-win game for us, we have to work hard to dictate our outcomes. A big goal for the program is not only to make the playoffs but to host a playoff game…"
Piaseczynski's productivity this season has made him a unique threat in Triton's offense.
"As a player he is very dynamic," Burgos said. "We call him our Swiss army knife. He can do a little bit in the slot as a wide receiver, and also as a tailback carrying the ball. We try to get him the ball, so we have to move him around and find different ways to get him the ball because when he has the ball he can do some great things."
Off the field, Piaseczynski has made positive impressions with those around him as well.
"Very sociable," Burgos said when asked about Piaseczynski as a person. "Just a very smart dude. He just cares… just a class act, really. Does all the little things right."
"I think Cole is a fantastic leader off the field," Miller said. "I think that Coach's decision of making him the token junior captain was a very good move… he's always stepping up when people won't… he's telling people to focus up all the time, he's making sure people aren't messing around, he's really on top of his stuff."
Academically, Piaseczynski holds himself to high standards as well. For September, he was awarded the MIAA Student Athlete of the Month. He is taking two AP classes in his junior year, and he embraces the challenges that can come with sacrificing leisure time to make sure his work gets done. "It can be challenging at times," Piaseczynski said. "It comes down to prioritizing those things over fun, leisure activities. School is important going forward in my life so I can be successful in the future."
For Piaseczynski, he looks to continue to add to what has already been a stellar junior season and help lead his team to postseason success. "We should make a nice run towards the end of the year," Piaseczynski said. "A lot of guys worked really hard this year, especially during the summer and I think that work is going to pay off."
View Comments (1)
About the Contributor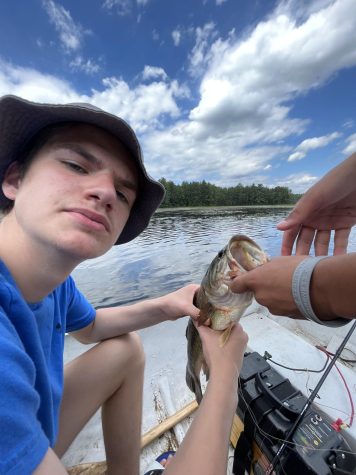 Aiden Szymanski
My name is Aiden Szymanski. I am a junior at Triton High School and a staff writer for the Triton Voice.

Outside of school, I keep myself busy with...