The New Sound at S.E.S.
Salisbury Elementary has a Brand New Music Teacher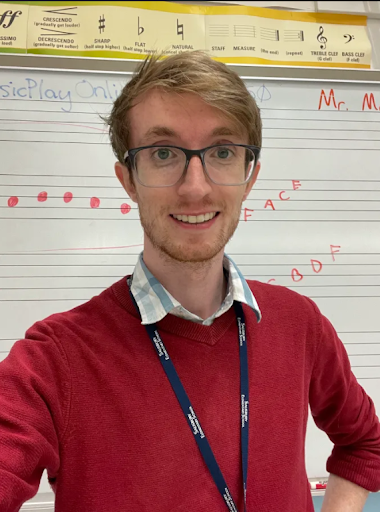 From playing bass in a metal band to teaching at Salisbury Elementary school (SES) Mr. Sean McConnell knows his fair share about music. 
Mr. McConnell was born and raised in a small Vermont town called Georgia. Throughout his childhood, he learned piano and developed a love for classical music. McConnell says he had a great childhood and lived out on a lake. As he went through school, he met Mr. Messier, his high school chorus and sound technology teacher. He was what truly prompted McConnell to go to Keenes State NH and pursue a career in Music Business.  However, because of his job as a camp counselor at Smugglers Notch, he realized that he really enjoyed working with children. This is ultimately what led him to switch to majoring in music education. 
"He brings a lot of enthusiasm, fun, and creative activities into the music classroom, and already has made quite the positive impression with his students," said Deborah MacKinnon, a fellow elementary school band teacher. 
MacKinnon believes that the music department benefits heavily from having McConnell work at SES and is excited to work with him more in the future. For context, MacKinnon is one of the teachers that is mentoring McConnell for the beginning of his time at S.E.S. and is currently McConnell's fellow band teacher. 
"He's positive, enthusiastic, and willing," said Ms. Susan Densmore, music teacher at Triton High School, and member of the team that interviewed and hired McConnell.  
Densmore also stated that parents have reached out to her, saying how much fun their child is having in McConnell's class. According to her, kids enjoyed it so much that they told their parents, who then reached out to Densmore. 
When asked about his teaching style, McConnell said "Try to make it feel like a game." These games, as he says, are to make kids enjoy learning. This was apparent on a recent visit to McConnell's classroom. 
"We play a lot of games," said a student in McConnell's third-grade class. 
Some of the games they've played include rhythm baseball, treble clef bingo, and several more. The children said they enjoy the games they play, which in turn allows them to enjoy learning about music.  
"We're playing treble clef bingo. " said another student from McConnell's third-grade class. "I like treble clef bingo a lot."
Treble clef bingo is very simple. It's like bingo, but with treble clef notes. 
"I really really… really liked rhythm baseball," said yet another student from McConnell's third-grade class.
Rhythm baseball is a game where there are three bases and a home base. The students answer questions and if they're right they move to the next base. 
In McConnell's classes, the younger students are currently working on learning about basic rhythms, and notes. While his third through sixth graders are learning instruments. Grade three is learning the recorder as grades four, five, and six learn the guitar. 
The interviewed students seemed to love Mr. Mconnell's class, which can be attributed not only to the fact that he plays games such as bingo with them, but also simply his positive and passionate feelings towards teaching. 
Salisbury Elementary has quickly grown accustomed to their new music teacher. Although he has only been there for a month Mr. Mcconnell's approach to teaching is already a hit among students. 
Leave a Comment
About the Contributors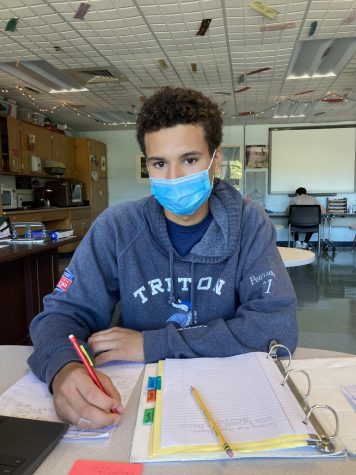 Colin Pearson, Writer
Hey, I'm Colin Pearson. I am a junior at Triton High School. In school, I love to play sports. I'm on the golf, hockey, and lacrosse teams. So that's...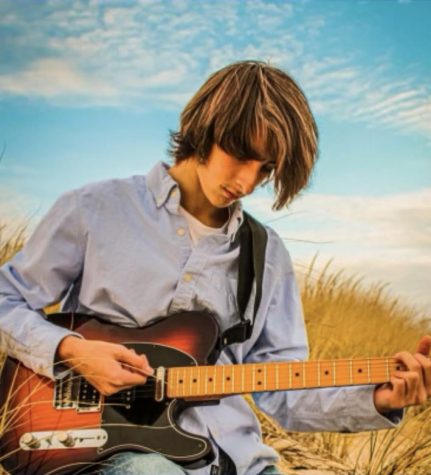 Griffin White, Staff Writer
Hello hello, my name is Griffin White. I go to Triton Highschool and am currently in my junior year. I don't really have a favorite school subject, but...