Supermarket Showdown
History, Location, Pricing, Convenience, and all that goes into the Market Basket-Shaw's Rivalry

Loading ...
When you think of supermarkets, many think of Market Basket with its infamous "more for your dollar slogan" and the pleasant greetings as you walk through the door. Just as many might think of Shaws as their first option for their modern atmosphere as well as their delivery service.
As much as strengths were assessed among both supermarkets, Shaws proved to be a better atmosphere with Market Basket being proven to have better price and customer service. Both were found to be the same in terms of cleanliness and prepared food quality.
For decades, Market Basket and Shaws have been the supermarkets that make up the Northeast, and are still growing at a rapid rate. With the friendly Market Basket employees giving you a "welcome to Market Basket" greeting as you walk through the door, to the wide variety of products as well as modern atmosphere offered at Shaws, both supermarkets are battling to stay on top in terms of relevance, and they don't seem to be stopping anytime soon.
In 1917 a family of Greek immigrants opened Market Basket (formally Demoulas) in Lowell Massachusetts, with a dream of providing to the community. Now, over 100 years later, business is booming with over 80 supermarket locations across the North East in states such as Massachusetts, New Hampshire, and Maine. Being run by the Demoulas family still to this day, their eye to providing for the community and picking customer satisfaction over profits is what makes them distinct from other supermarket chains.
Shaws is a company that operates on a larger scale with over 133 store locations that span states across New England such as Massachusetts, New Hampshire, Maine, Rhode Island, and Vermont. Competing with Market Basket, it almost makes you wonder, how they stay in business, due to the lower numbers of people that seem to be shopping in the Shaws supermarkets. 
Walking into Shaws, it was instantly noticed that the prices of items are clearly a little bit more than products sold at Market Basket. It was $7 for 1 pound of chicken tenders at Shaws rather than $6 for 1 pound at Market Basket. It was most apparent that prices at Market Basket for an abundance of items were purposely made 10 cents cheaper than Shaws, in a way of competing, but not competing to the point of damage. Other comparisons made, were the donuts in both bakeries of the supermarkets, which were 69 cents a donut at Market Basket versus 79 cents a donut at Shaws. Organic and regular bananas were also compared, which came out as the same price for regular bananas but 10 cents cheaper a pound for organic bananas at Market Basket.
It was instantly noticeable that Shaws does an overall better job with store presentation and atmosphere. All items on the shelves were well illuminated by the brighter lights on the ceiling, as well as additional lights within the modern wooden and metal shelves holding the food. Lighting at Market Basket was only fair due to the lack of aisle lighting, such as modern interior shelf lighting, which could have made certain products pop out to the eye such as Shaws. The shelves at Shaws also seemed to be at a more accessible height, which makes reaching for food on the top shelf accessible to everyone. This is always better than having to ask a worker to get your desired product for you like at Market Basket. 
In the designated organic section at Shaws, the wood floors, to the wood shelving, sets a certain tone of being "one with nature" when shopping in this aisle. This also goes along with the noticeably reduced amount of plastic that the store uses compared to Market Basket. Paper checkout bags, paper pre-made food bags, thinner plastic bags in the bakery section, really shows Shaws commitment to keeping our environment healthy and clean.
Price tags at Market Basket are not guaranteed to be as evident as Shaws as well. At Shaws, a shopper is greeted with all the products brought to the edge of the shelf, with the price tag exactly under each item with a spacing of about 6 inches until your reading another price tag. At Market Basket, there are times when you won't see another price tag for a few feet, and the products above might be totally different from what the price tag says it is right below. It was also really nice to see labels on each tag at Shaws if a certain product was a vegan product, gluten free product, etc.
It was also quite important to note that interestingly, every single banana at Market Basket was green, compared to Shaws, whos bananas were bright yellow and looked alot more fresh in the produce section.
As much as it seems like atmosphere at Shaws totally outweighs Market Basket, do not get fooled, it's simply not. The combination of Christmas music playing throughout Market Basket really set a tone for how a true old time supermarket really functions. Families talking to friends, relatives, and even workers that tend to start up a conversation with customers they have known for years. Market Basket takes up true hospitality, and you know your in good hands when shopping within this supermarket to get "more for your dollar."
Shaws did have sections not apparent at Market Basket, such as an organic section, and prepare your own salad section. Giving the customer the option to make a desired product the way they want it within a supermarket, such as a salad, makes the customer remember the supermarket due to this feature being pretty notable.
"
Prepared food quality is very important when it comes to supermarket reputation, and both Shaws and Market Basket will not let you down"
Prepared food quality is very important when it comes to supermarket reputation, and both Shaws and Market Basket will not let you down. For this review, the same chicken tenders and donuts were purchased from both stores for a taste test. Surprisingly, both the chicken tenders and donuts from both stores were just as tasty. If your someone who likes more of a crispy, less juicy, chicken tender, go for Shaws. If juicier, soft, chicken tenders are your choice, Market Basket would be right up your alley. When the donuts from both stores were tasted, the Shaws donut instantly stuck out, due to the comparable taste, and pillowlike form dough, like Dunkin Donuts. Market Basket has been known to have a more homemade approach to their donuts, which make them distinct to other supermarkets. This is due to the fact that there dough choices can range such as the chocolate donut that was reviewed. Instead of regular dough, Market Basket got creative and used a previously made cider hill donut, and put chocolate frosting on top as the final ta-da. 
Other than the extra vegetable skins on the ground in the produce section at Market Basket, both supermarkets seemed to be spotless. Shaws was more noticeably clean with all prepare your own salad stations wiped down to the checkout lane conveyor belts not having a stain on them. Market Basket gets more of a break on cleanliness and was not judged as hard due to their crowded stores that cycle customers in and out all day, versus Shaws who gets less customers, and has more time to clean.
Customer service was substantially better at Market Basket, and is another strong characteristic that they hold. Walking through the entrance of the store, be prepared to get greeted by at least one worker welcoming you to the store, as well as the famous, "more for your dollar" sign that contains a whole story in itself. At Shaws, you will not get that. Every worker seemed to keep to themselves and not want to be bothered with your well being. When chicken tenders were ordered for this review at Shaws, the worker simply did not listen, and gave a half pound of chicken tenders rather than what was asked for which was a quarter pound. There was not friendly greetings as well when this worker was first approached. At Market Basket, it was quite heartwarming to see that almost every single worker was interacting with the customers to make sure they get the best experience before leaving the store.
At the end of the day, after I made my purchases of the same products from both stores, my total at Shaws came down to $6.52 and my total for Market Basket came down to a whopping $4.39. If customer service and pricing of products is important to you, and your shopping for a family, I would personally choose Market Basket on almost anytime of the week. For the group that has a little bit of extra money to spend, and is greatly enthused by a better store atmosphere, Shaws would be the better way to go.
Leave a Comment
About the Contributor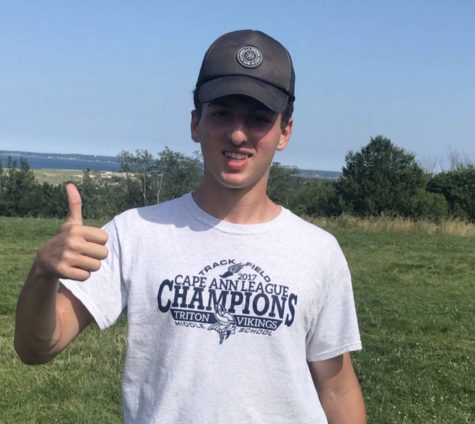 Nick Pagliarulo, STAFF WRITER
Hi! My name is Nick Pagliarulo and I currently attend Triton High School. I am a Junior and this is my first year being a part of the Triton Voice journalism...