Murder Mysteries Come To Triton
A behind the scenes look into the Triton Fall Play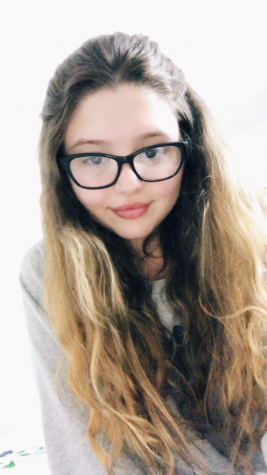 More stories from Sophia Mailhoit
Who done it? That's the question that everyone will be asking this December when the fall play comes to the Triton stage.
The fall play this year is two one-act comedies, Clue and Lights Camera Murder. 
"Murder mysteries are fun, and the audience loves murder mysteries," said Sharon Riordan, The director of the fall play, "Because we all want to know who done it."
Clue, which is based on the popular Milton Bradley board game, follows all of the iconic characters from the game. They must confront their blackmailer all while trying to stay alive when there is a murderer among them.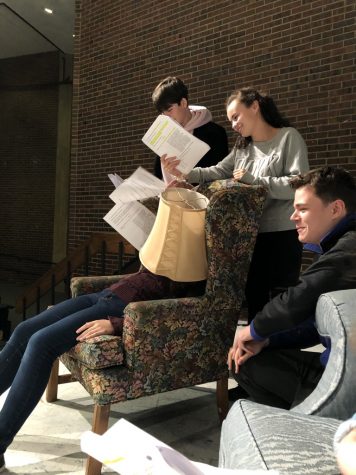 "I like how the writers were able to incorporate the classic parts of the board game," said senior Xander Heckman, who plays Mr.Green in Clue, "like all the murder weapons and each person being a color, while still making it so the audience is on the edge of their seats."
The version of Clue that Triton is performing was written and performed by Pope John XXIII High School for the Massachusetts Educational Theatre Guild (METG) drama festival in 2017. 
Lights Camera Murder, which was written by Riordan, is set in 1921 on the set of a silent movie. Characters include Scarlet Monterey, Vladimir Dubadski, and D.B De Witt, who must figure out how to finish his movie all while someone is killing his actors.
"I think the show is really great," said junior Claudia Umanita, who plays Scarlett Monterey, "it's really cool that even though it's been performed two other times, each cast really brings something different. I love how many different ways a character can be played, depending on the actor that's playing them."
Lights Camera Murder was first performed in 2016 as one of the two fall plays. That year it was accompanied by At The Bottom Of Lake Missoula. The show was performed again in 2019 as Triton's entry into the METG Drama Festival. 
While the shows are still in rehearsal and will not be performed until December, the cast is working hard each day to make the plays as perfect as possible. 
"The rehearsal process has been very interesting," said junior Savannah Sweeney, who plays Vivian Devine in Lights Camera Murder, and Yevett in Clue, "rehearsing two shows at once can be difficult sometimes, mostly on days where we rehearse both shows. It's nice that both are murder mysteries because they are the same style and the people in both don't have to switch from super sad to funny."
For the graduating seniors, this will be their last fall play here at Triton, like many seniors who are in the final season of various sports and clubs, they are taking the time to reflect on their four years at Triton High School. 
"From theater, I have learned how to be brave," said senior Bridget Tucker,
"
The biggest lesson I have learned is not to be insecure. Theater has helped me not care what people think of me."
— Bridget Tucker
For those who are thinking about joining the theater program in the future, most of the cast will tell you to just do it. If you're interested in performing and acting, you should definitely do the shows said Sweeney. 
"Even though it may seem hard at times it's a really fun time and I've made a family here and hopefully I can be their family as well," said Anthony Mariniello, one of the two stage managers.
Come support your peers as they perform in Clue and Light Camera Murder on  Thursday, December 5th, Friday, December 6th, and Saturday, December 7th at 7:00 pm in the high school auditorium.
Leave a Comment
About the Contributor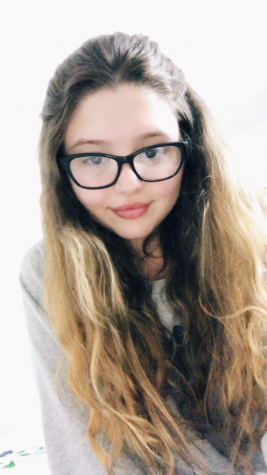 Sophia Mailhoit, Staff Writer
Hi! My name Is Sophia Mailhoit. I'm a senior at Triton High School. I love theater, from acting in plays and musicals, to writing my own shows. I also...