Renovated Pine Grove Reopens
As the sun rises, the light shines off the new chrome sign "Pine Grove School" at the front entrance of the building. The sun bursts through the glass wall, lighting up the entrance of the main hallway. The light shows a new and bright beginning for Pine Grove Elementary School.
"The school is very open and uplifting with all the sunlight the building lets in," said Principal Christine Kneeland.
PGS has been going through a remodeling since April of 2018 and has been finishing up in October of 2019. The school has had so many changes that it looks brand new. 
The process for PGS to get remodeled has been long and tedious with the project breaking ground in the spring of 2018. The project was broken up into phases where the building was remodeled section by section, so classes could still be in session. One of the struggles was having to relocate classrooms constantly throughout the remodeling.
"Just keep your eye on the prize," was what Principal Kneeland would tell the staff throughout the renovations. 
Some of the biggest renovations to the school were to the gym, library, and cafeteria. The gym has brand new flooring, basketball hoops, and a fantastic viking logo in the center of the court. The library has brand new furniture and three flat screen TVs, one of which is interactive and functions like a Smartboard. The cafeteria has the best kitchen in the district now with an all new setup and equipment. Included in the cafeteria, visitors will find a new theater stage. 
"Every classroom I walked into had new technology", said Triton senior and former Pine Grove student Jack Niska. All over Pine Grove there is new technology. There are multiple flat screens located throughout the building to help faculty and students learn new material. Each grade has a common area with an interactive flat screen TV and carts filled with Chromebooks for the kids to use for learning.
 The new technology also gives the teachers new ways to have an interactive classroom and get all the students involved in the curriculum. " The students having access to new computers
Leave a Comment
About the Contributors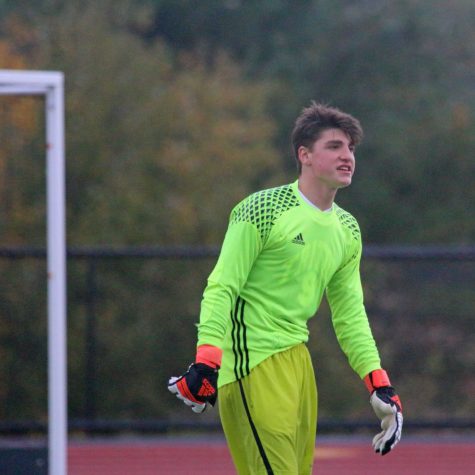 MarkAnthony Glickman, Staff Writer
Hello, My name is MarkAnthony Glickman. I am a senior and a writer for the Triton Voice newspaper. I play goalkeeper for the Triton soccer team and play...
Kyle Noonan, Staff Writer
Hi, My name is Kyle Noonan. I'm a senior at Triton High School. I play three sports; football, wrestling, and track and field. I work at Tendercrop on...