DECA ICDC
The conference of the top high school business minds in the country
DECA (Distributive Education Clubs of America) is the club that brings the top business students in high school from across the country and even around the world. The people who make it the furthest are invited to ICDC (International Career Development Conference), this year in Orlando Florida.
At this years' ICDC in Orlando, there were a total of over 14,000 kids competing to hopefully win some DECA glass (trophy for first, second, and third place). The Chaos of having thousands of kids, all competing and most of them stressed out, creates an environment unparalleled to anything else in high school. That experience can only be described by someone who was there first hand.
Benjamin Smith along with myself and Mr. Joseph Celia were all in attendance this year and here's how it went. "ICDC was a great experience, there was a lot to do and some great performances," said Smith. "The guest speaker was good and he was followed up by the Blue Man Group on opening night."
ICDC lasted four days, the first was mostly getting everything together and the opening ceremony. The second day was full of competition briefing and written essay entries. The third and fourth days were competition or presentation days followed by an awards ceremony and a grand awards ceremony.
"This year I was fortunate enough to go for my category, The Stock Market Game, in which I qualified as a finalist," said Smith.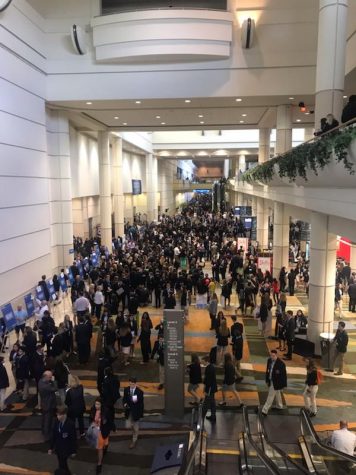 Mr. Joseph Celia was our advisor on the trip, "Advisors are given a work schedule that includes supervising competitive events and chaperoning field trips. They are also responsible for making sure their students are aware of their competition schedule," said Celia.
"I would definitely recommend the experience," said Smith, "There were a lot of opportunities to meet new people and I enjoyed being around kids from all over the country."
About the Contributor

Joe Luciano, Staff writer
My name is Joe Luciano. I am 16 years old and a junior at Triton High School. I'm from Rowley and in the newspaper, I like to cover any story relating...