Review: Halo Top vs. Arctic Zero
Which light ice cream takes the cake?
Since we are well into the month of March with only one snow day under our belts, it's safe to say that myself and fellow seniors will be drowning our sorrows, mourning what could have been a productive winter. For myself, there is no better feel-sorry-for-myself food like ice cream – but now without the guilt.
"
For myself, there is no better feel-sorry-for-myself food like ice cream – but now without the guilt."
— Author
Lately, food companies have started to jump on the 'low-cal' bandwagon, one such modern invention I have become addicted to is light ice cream. While I have been hooked on Halo Top, mostly because it is one of the only light ice creams that Market Basket carries, I have also heard of another light ice cream called Arctic Zero.
Because both ice creams offer a dairy and non-dairy version, I decided to try similar flavors from each, rating the individual pints and giving an overall rating of the best company. So, as the weather man proclaimed a warmer week with no hope of another snow day and I became more and more depressed, I decided that it was a perfect time to review some light ice cream.
Before I even dug into these desserts, I had to have a look at what they were made of. I mean – how can something be so delicious and low-calorie at the same time without hiding something? When I compared the ingredients, there was one major component that was completely different: the sweetener. As a sweetener, Halo Top uses erythritol, a sugar alcohol that is found naturally in small amounts in fruits and vegetables. The Halo Top website claims that erythritol "doesn't affect blood glucose or cause bloating." However, Arctic Zero purposefully stays away from erythritol as they claim that it "not only leaves a funky aftertaste but it also causes digestive issues."
Time for some investigation. Kris Gunners from Healthline.com wrote in the article "Erythritol – Sugar Without the Calories?" that sugar alcohols like erythritol are shaped in such a way that your taste buds think it is sugar, causing a sweet taste in the mouth. These alcohols are not digested by the body, however, hence why they can cause bloating and gas. Erythritol seems to be the best choice as about 90 percent is absorbed before it gets to the colon, therefore reducing the amount that bacteria in the colon need to ferment.
Studies on animals have shown that there are no dangerous side effects to this substitute and in diabetic rats it was shown that consumption of erythritol decreased damage to blood vessels caused by high blood sugar. In diabetic adults who took 36 grams a day for a month claimed that it improved their blood vessels, decreasing their risk of heart disease.
Selling in stores across the Northeast, Midwest, Texas, and California, Halo Top carries 24 dairy flavors, 14 dairy free and vegan flavors, along with small ice cream pops. Market Basket carries a lot of their dairy pints, but I could only find one or two of the non-dairy versions. I decided to try the non-dairy Caramel Macchiato and the dairy Chocolate pint.
The non-dairy pints use coconut milk instead of regular dairy milk, and I could definitely taste it in the Caramel Macchiato. That flavor's caramel swirls also disappointed me as they became thick glumps of a low-calorie caramel sauce that tasted like a low-calorie caramel sauce. Overall, not impressed with this flavor. The chocolate, on the other hand, was very good for a light ice cream. It was smooth, chocolaty, and simple and while there is a slight aftertaste, probably due to the erythritol, I found my chocolate cravings satisfied.
For Arctic Zero, I had to trek up to the Walmart in Seabrook after going to the map on the Arctic Zero website. This company offers seven dairy flavors, nine non-dairy flavors, non-dairy bars, and 12 lactose-free flavors. At Walmart, I was disappointed to find only dairy-free flavors, so I decided to try the dairy-free Brownie Blast and the lactose-free Salted Caramel.
The Brownie Blast had a bit of a gummy texture, as compared to the Halo Top dairy-free Caramel Macchiato which maintained creaminess. However, the brownie bits in this ice cream did add a nice change in texture and did taste like a chocolate brownie. I must note about this last flavor that, during the tasting process, each pint was finished by myself and family member except the lactose-free Salted Caramel pint. Less may be more in some cases, but when it came to this ice cream, less was most definitely less. The caramel flavor was so strong that it overwhelmed the entire pint. There was no milky or creamy flavor to balance the sweetness of the caramel and made me want to go out and get real ice cream as it was so lackluster.
Overall, I found that Halo Top satisfied my ice cream desires, unlike Arctic Zero, earning it four stars out of five. To be fair I could not find any dairy Arctic Zero, but even so the non-dairy Halo Top still maintained a creamy texture while the Arctic Zero had an almost gummy, artificial feeling, leaving it with only two stars out of five. For me, it's safe to say that as springtime gets closer, I will be reaching for some Halo Top ice cream.
Works Cited
arcticzero.com
halotop.com
Gunners, Kris. "Erythritol – Like Sugar Without the Calories," Healthline, Healthline Media, 23 April 2018, https://www.healthline.com/nutrition/erythritol
About the Contributor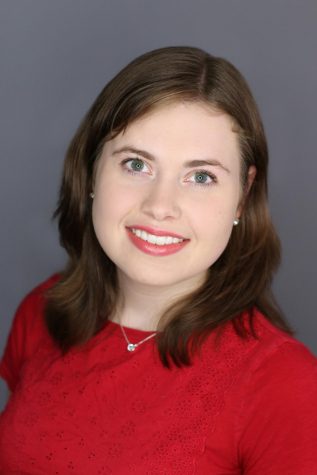 Jacqueline Downs, Staff Writer
Hi, my name is Jacqueline Downs, 18, and I am a senior at Triton. While this is my first year in Journalism, so far I have really enjoyed reporting on...