Feeding the Need
Amid National Calls for Better Access to School Lunch, Triton Student's Find Saving Grace in Second-Chance Breakfast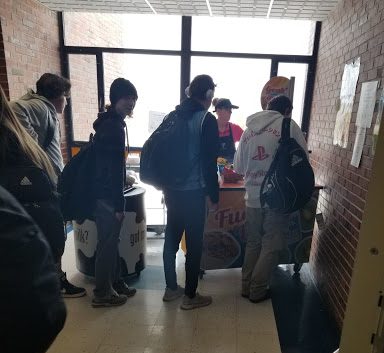 Hang on for a minute...we're trying to find some more stories you might like.
The morning is one of the hardest times for senior Josh Price. Price wakes up at 7 every morning, only to skip breakfast due to how early school starts. Good thing Triton has a new second chance breakfast at school for when he does not get to eat breakfast in the morning.
Two reporters from the Triton Voice covered the stations that served the breakfast in the hallways after second period. One station had 49 kids in line, and the other held 31; A total of 80 kids at Triton lining up for breakfast. What is it that makes these sandwiches such a big deal? According to students, they are delicious. Two Triton seniors seem to think that these sandwiches are a great thing for the school community.
"It seems like a good idea. I don't get them but for a buck fifty it looks way better than breakfast I would make at my house. I don't have time for that," said Justin Dolloff.
"Dude those sandwiches are dank I get them all the time, I usually run for them if I am not close," said Derek Maida.
The kids at Triton love the breakfast sandwiches, there are some that get the breakfast every now and again, and then the regulars. Price and Isaac Harington are two Triton seniors who normally get second chance breakfast.
"I wake up at 7 and go to school, so I don't have time to eat breakfast at home in the morning. Second chance breakfast is where that nice bacon, egg and cheese sandwich is. I love it so much I get it every other day," said Price.
"I get second chance breakfast almost every day; normally I don't eat breakfast in the morning because I do not have enough time," said Harington. "It's a problem how much kids don't have time to eat in the morning before school."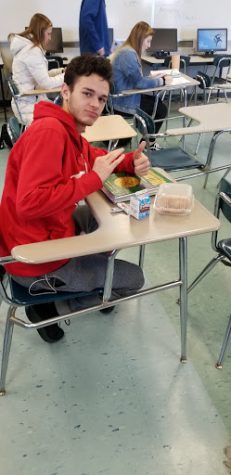 What makes the second chance breakfast so appealing are the breakfast sandwiches. Both of the breakfast stations were observed by the reporters and at both the sandwiches were sold out. The leftover food not bought are solo snacks and "goodie bags" that include apples and pop tarts. For the 80 kids, second chance breakfast is an asset. By giving kids the fuel they need, their health and well being increases claimed healthychildren.org. A teen's academic and physical performance increases after they have eaten breakfast, and skipping breakfast is more likely to cause weight gain among teens. The observed problem was if students have the time in the morning to eat before school. Voice reporters went to the Triton cafeteria to talk to the lunch ladies, Stacey Brimicombe and Andrea Camppell, about the breakfast phenomenon.
"The kids have always come down during third period to get something to eat before we had the second chance breakfast. They got rid of it because kids were late to third period." said Camppell.
According to the lunch ladies, the Triton second breakfast came from a suggestion by their superiors. Many kids at Triton would get to school late and did not have a chance to get to first breakfast in the cafeteria. And 'snack time' during third period was cutting into class time, so breakfast was brought to the students, efficiently and effectively.
"There are an average of 120 students a day just for second chance breakfast; without including morning middle school and high school breakfast. Now in my opinion, when I was a student at school I never ate breakfast before I went to school. If I was someone your age and could have a bowl of cereal, or a hot sandwich with bacon and home fries, I'm going for the sandwich." said Brimicombe.
About the Writer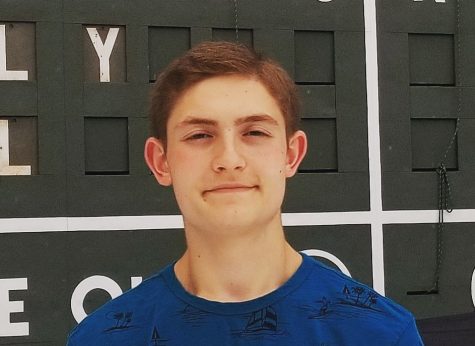 Alexander Michals, Staff Writer
My name is Alex Michals, a senior at Triton High School who's interested at reporting the struggles of the Triton community. When I'm not in school and...