Non-Stop Softball
Hang on for a minute...we're trying to find some more stories you might like.
Click here to listen to a podcast of this article
On today's podcast, Triton Voice will be covering how a student athlete can juggle school and play a sport year round.
Triton's Katherine Quigley is a star pitcher for the Triton Vikings, playing softball year round to get better and with the hope of getting a softball scholarship. Quigley made varsity her freshman year. With her dedication and work ethic to train during the off season, she has big plans in store for this season for the Triton Vikings as their season is slowly approaching. We sat down with the pitcher and discussed what it takes to play year-round.
What teams do you play for during the off season while you get ready for the upcoming season?
"I play for the U18 elite Salem Hurricanes out of Salem, New Hampshire."
It's hard to believe a Student can juggle playing a sport year round and still have time to manage school work and other activities and clubs. But Katherine has been playing softball ever since the fourth grade and she loves it so much she decided to play year round.
"I use my study periods wisely," she said. "I think this will be our best season out of my four years off high school, and I feel like we will be CAL champs this year and grow as a team."
While Katherine is working hard during the off season to become a better pitcher, she meets with her pitching coach every week, normally just being one day a week. She also spends her time in the tunnels at training facilities.
 What's interesting about Katherine's routine is that she meets with her coach once a week and goes to a facility once a week also. But each new month, she adds on an extra day to meet with her coach and an extra day at the training facility until tryouts start for the regular season.
"I meet with my pitching coach once a week," said Quigley, "but that's not including the times I spend in the tunnels at the training facilities because in December is when I come back and I do it once a week, once with my pitching coach and once at the training facilities. And then each month I add on another day so January I do twice a week plus the lesson then three times then fourth until it's tryout and then I stop
It's common to see students playing sports year round, but how do they do it, how do they use their time wisely and manage sports and school while working during the off season. For Quigley it's easy for her, she gets to play the sport she loves year round and train herself to become better each year in hope of playing college softball.
About the Writer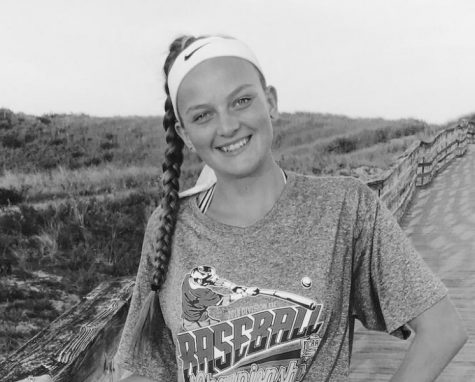 Kelly Sharkey, Staff Writer
My names Kelly Sharkey, class of 2020. What I enjoy about writing for the news is reporting about things students would be interested in reading. I play...