Cat Rescue Society Aids Area Felines
Recent Visit Reveals a Caretakers with Big Hearts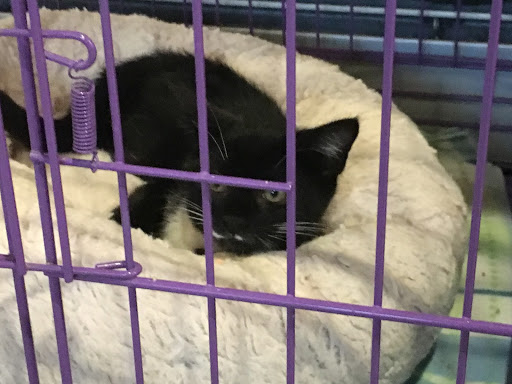 Hang on for a minute...we're trying to find some more stories you might like.
Riverside Veterinary Clinic helps cats of all shapes and sizes regain their strength by healing and nurturing them. People such as Carol Seale manage to help cats every day.
"I started working at a vet hospital when I was 14 years old" said Seale. "I volunteered and not long after the doctor gave me a job. I used to clean kennels and clean the building" Seale went to Essex Agricultural and Technical High School and she has been working in a veterinary office for 40 years.
Seale and the clinic's staff work with many different rescues for all types of animals.
Seale said, "We work with Sweet Paws Rescue, we have worked with Merrimack Feline Rescue, we have worked with animal rescue of Merrimack Valley. We do honor MSPCA certificates as well (spay and neuter) so we've worked with lots of rescues".
Merrimack River Feline Rescue is a volunteer-run, non-profit rescue that is located on Elm Street in Salisbury. Merrimack River Feline Rescue is also donation run. Walking down Merrimack River Feline Rescue horizontal hallway, that is covered in poster, and go through the door to the left. The first thing that can be seen from the door is the receptionist and their desk. The inside as well as the outside, looks just like a home but the inside has been modified for cats. In the middle of the space, behind the receptionist's desk, there is a cat kennel. The right side side of the kennel is see through and the left side has bars; the kennel contains two kittens. There is a kitchen to the left of the kennel and there are some free roaming cats in the main area. At the end to the left of the main room, there is a tall, purple, cat crate containing two kittens.
At the end of the main room, is what they call the kitten room; but there was only cats there this time. The room contains cat that may be a bit more shy. Next to the crate, to the other side of the kitten room, is where really shy or just rescued cats are and no can go into the room without a volunteer with them. To the left of the receptionist desk is the room for cats with feline leukemia. The room houses a about five cats that have leukemia. At the end of the room to the left there it a tall cat crate containing two kittens. Right next to the crate, to the right, is what they call the kitten room; but there was only cats there this time.
Most cat end up at Merrimack River Feline Rescue because "they're moving and can't take their cat or their allergies at home or their child develops allergies" according to Jen Frey, a volunteer. Just because the rescue is local does not mean they are not busy. Frey explains "most of our cats go really quickly, so an average month we probably do … between like 60 to 80 adoptions and some months will do over a hundred". Merrimack River Feline Rescue is our local rescues and they save many lives.
Merrimack River Feline Rescue is different from most rescues. Merrimack will cover the medical bills of any special need cats. "Let's say you adopt the cat who had a heart condition and my cat needs medication will pay for that medication" states Frey.
Out of the many cats they save, the Merrimack River Feline Rescue Society (MRFRS) finds as many homes for as many of their residents as they can. One Cat was lucky enough to get adopted out by a local Triton students.
Grace Poster and her family had gone to the rescue around seven years ago to adopt a cat for her brother. "My brother wanted another cat because I had just gotten one a couple months prior" said Poster.
The cat they decided to adopt had a temporary name so he could be identified by the rescue. "His name is Gibson but when we got him he was named Nottingham by the rescue place". Gibson's mother gave birth to him and his siblings at the shelter after his mother was rescued and brought there. Poster describes him as "very affectionate but a big scaredy cat around strangers".
Another Triton student, Savannah Nolan, adopted a cat from the Merrimack River Feline Rescue Society. Around 5 years ago Savannah and her family wanted to adopt a cat as the household pet. When asked about her cat's story Savannah stated "Before the shelter my cat got hit by a car and needed serious surgery. Before she got her surgery she needed, she also gave birth to a litter of kittens and had a birthing complication that required her to need more surgery. She lived on the street, and one day a hoarder picked her up and brought her to Merrimack Valley Rescue Society where she received proper care."
Without any animal rescues, many animals like cats would still live on the streets without a shelter or food. With so many cats given up or abandoned the rescues have limited space to keep them there and can't take in every cat they come across. Right now most of the cats that are abandoned or on the streets have special needs or have almost lived out their full life span. With enough help such as volunteers and donations the rescues can keep their doors open and take in more cats.