US Launches Missiles
Why we really dropped the bombs on Syria
Hang on for a minute...we're trying to find some more stories you might like.
On Friday night, April 20, 2018, the United States launched a missile strike on Syria as a result in the Syrian government bombing and killing their own people.

Syrian dictator, Bash al-Assad's government, made a chemical attack on its own citizens of Syria. They were killing and poisoning their own people, so we decided to go after them, and fire missiles due to what they have been doing.

Trump said even "beautiful babies were cruelly murdered in this very barbaric attack." As it is stated on Mic Network Inc.

The U.S. government was not happy with the way Syria had been acting, and the choices they were making to drop bombs and chemical attacks on their own people, killing them.

Therefore Trump decided it was time to give them a taste of their own medicine and drop a great deal of powerful weapons on them.

"The United States fired 59 Tomahawk missiles at a government airfield near Homs," CNBC reported.

The thought of us bombing another country can be scary to some people, because you never know what that country could do to fire back at us, or if it could even lead to another war. So Triton Voice decided to ask students what their thoughts and reactions were about the Syria attack.

"I was at my parents friends house when I heard that we bombed Syria. My dad friend told me we were bombing the heck out of them and I was very shocked, and kind of scared because I knew that definitely wasn't good" Junior Audrey Caron explains.

"But then my mom said it was because they were poisoning and killing their own people, so that's why we went after them. At first it seemed really bad because I figured they would come back at us, but we had our reason to do what we did and I think we're more powerful than them." Caron goes on to say.
History teaches usually have an opinion on the choices the US government makes, and what's going on in our country.
Triton history teacher, Ms. Fritz tells us how she feels about the US dropping a bomb on Syria to try and stop them from using chemical weapons.
"On one hand it's necessary for the US to use its position in the world to enforce humanitarian laws; like you cannot gas your people. But it's also particularly important at this point in time because we lost a lot of credibility in the world because of Trump."

Frtiz goes on the say, "on the other hand Syria has been in a civil war for several years, so we should think about weather or not we wanna risk the US's escalation. Do want to send our troops there? And how much do we want to get involved?"

We have been in the same situation before with Syria, where we bombed them because of what they were doing to their people, and some people wonder if what the US is doing to try and stop them is even working.
"Our objective (the reason we bombed them) was to deter Assad (the president of Syria) from using chemical weapons, but the same thing happened one year ago, in April of 2017, where Syria was using chemical weapons so we bombed them, and they did it again one year later. So is what we're doing working?" Miss Fritz explains.
If this keeps happening, and Syria continues to poison their people, then clearly what we're doing, by launching bombs and missiles at them, is not working.
The thought of this scares some people, because no one knows if there will be another war anytime soon, due to the decisions the US government has been making.
Junior Justina Donoghue shares her opinion with us on how she feels about this situation.
"I don't agree with the fact that Syria is hurting their own people, but I also don't think we should've gotten into it, and came back at them with violence. Yeah, they're hurting their own people, but we're also hurting them by dropping bombs on them. It's like fighting violence with violence, and I personally don't think that will work."
About the Writer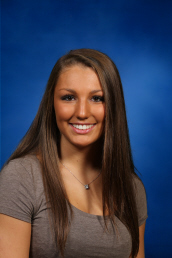 Paige Zukowski, Zukowski
My name is Paige Zukowski, and I am a Junior at Triton High School. I like covering the Triton newspaper because hearing about the latest news and writing...