Netflix's Limited Series Maid
On the floor of an airport, jeans grazed with grass stains and hair out of place, Margaret Qualley who plays Alex Russell in the popular Limited Netflix Series, Maid, holds her two-year-old daughter, Maddy, tightly in her arms. Only after Alex was able to escape her abusive boyfriend and Maddy's father, Sean Boyd, and totaled her car in an accident, Alex is driven to the airport where she sits brazenly and sings Maddy to sleep. With the few of her belongings beside her, cleaning supplies, and the few quarters she has left, Alex seemingly has nowhere to go. From here, we watch Alex fend for her life with Maddy by getting a job as a maid, fighting Sean in court, and regaining past relationships. 
Maid first aired on October 1, 2021. A rise in viewership continued throughout last year and into this year as the series gained popularity fast. Fans of Stephanie Land's memoir "Maid: Hard Work, Low Pay, and a Mother's Will to Survive" came together to watch the Netflix series based on the New York Times bestselling book. Maid was thrusted into the attention of the public and was quickly recognized for what it portrayed:  The struggles which most of us do not encounter, and just how bad those struggles can get. Viewers have said how heartfelt and true the story of Alex was and thus began the uproar in views. 
After ex-boyfriend and Maddy's father, Sean Boyd (Nick Robinson from the films Everything, Everything and Love, Simon), acquired a drinking problem, Alex (Sarah (Margaret) Qualley from Once Upon a Time…in Hollywood) began to notice how severely it was taking a toll on him. Outbursts of rage were just one of the many side effects she had encountered. Knowing that Maddy's safety was on the line, Alex chose to take Maddy (Rylea Nevaeh Whittet) and leave Sean to find work for herself near Seattle, Washington. The job in which she is able to land inspired the very title of the book and series that follows her story; Alex becomes a maid. 
Produced by Molly Smith Metzler, Maid was filmed on Greater Victoria on Vancouver Island, in British Columbia, Canada. As it was meant to be set in Seattle, Washington, I believe shooting on Vancouver Island was a great idea. The island itself is beautiful and such a story required such scenery to go along with it. I believe it made each episode authentic in a way. 
Another great factor which contributed to the success of the show were the actors themselves. Sarah (Margaret) Qualley played Alex, the stubborn and perplexed young mother who has so much going on in her life. Qualley displayed Alex with so much emotion that every line of Alex's instantly became more interesting than any other. Each tear, sob, and scream that Alex expressed, Qualley's talent made it seem all too real. The factor in which the actors brought Stephanie's all too real story to life again added to the amazing quality of the series itself. Qualley's hard work showed continuously throughout each episode and saw through to the end of the series. I still believe, and most firmly will always believe, that other than Miss Stephanie Land herself, Margaret Qualley was the best choice for the role. 
Nick Robinson played Sean Boyd, a very angry and manipulative character that fell to the power of addiction and struggled with it for most of the series. Much like Margaret's talent when portraying Alex, Nick had to have mastered an incredible amount of emotion when playing Sean. All of the anger, hurt, and deceiving apologies put into this role were each so clear. Sean must have been such a hard role to play and for me, an even harder one to watch. 
Andie MacDowell played Paula, Alex's mom, the free spirited woman who had undiagnosed bipolar disorder as shown throughout the series several times. A lead role with enough baggage to last a lifetime is quite a lot to come to understand when readying to portray said character. A character with all of that plus an undiagnosed mental illness with such a carefree spirit and aura to them could be deemed even harder to play than Alex herself. Watching Andie display Paula on screen was truly an amazing show. Her natural free-spirited attitude only contributed more to the aspect of Paula herself. During the series, Paula was shown many times making impulsive decisions and promises. In the long run, she never kept those promises and never stuck with any decision she made. Andie showed Paula's deep confusion for the world, but also her always positive outlook on it. Two very big factors that contributed to Paula's character, and both were shown with great talent, hard work, and thought coming from Andie. 
Other than being based on Stephanie Land's bestselling book, Maid had another respected reason to be made into a television series. The series showcased domestic abuse and violence for what it is, and could be. This sole reason was, on my behalf and surely many others', a very important one. To those not familiar with domestic abuse, it breaks a person down. Maid gave us a visual representation of Stephanie's experience with domestic abuse and violence with Alex being Stephanie in this case. While it is important that Stephanie, and or, Alex's story was told, it is also important to highlight why it is being displayed. Domestic abuse is nothing to turn a blind eye to, something that continues to happen throughout modern time today. It is also a very real type of violence that is happening throughout our world today. Many can relate to Alex and Stephanie's story. 
When watching Maid, the storyline was the slightest bit confusing. Starting off strong, so much happens in the first episode. Alex leaves Sean with Maddy, then proceeds to land a job, incorrectly clean a house, get in a car crash, and all in all, the end of the episode takes you to the airport floor where you'll find Alex holding Maddy who sleeps soundly. So much is happening at once. The truth as to why each episode, not only referring to the first episode, is fast paced and packed with conflict after conflict, is because the story of Alex is based on a true one. Only true stories can be told the way they happened. Maybe a few extra events for the added suspense and shock to appease an audience or the misplaced order of any of the details or happenings to make it more interesting per say. But nonetheless, the story remains true. Other than the few lingering moments of confusion and thoughts that resembled much to the question of 'Wait, what just happened?'. 
Unsurprisingly, I enjoyed every bit of the show. No ounce of criticism on my behalf or others could match up or overtake my love for this series. As someone with little experience with hardships, this series still hit home. It rendered what other people go through, what their lives are like and how they are different next to mine in many ways.  It brings out feelings of understanding when finished with the film and insufficiency when faced with the idea that we could all be doing more to bring awareness to people in these very types of situations. All actors played various characters that differed greatly personality wise, belief wise, emotions, and abilities. Each character was intricately displayed by each and every actor. Not only am I sure that the novel behind this popular story is just as good, if not better, compared to what has been illustrated on screen, I am also sure that the effects of both pieces have lasted with not just me.
Leave a Comment
About the Writer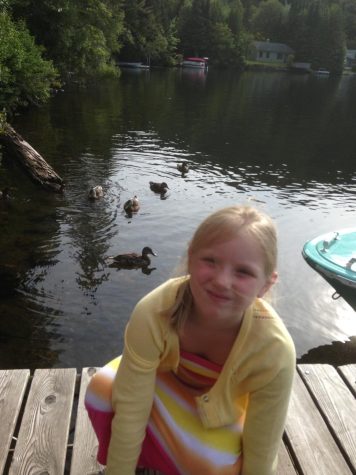 Sadie Clifford, Staff Writer
Hi! My name is Sadie Clifford. I'm a junior at Triton High School. Most of my free time is occupied by my two jobs, homework, and writing. Additionally,...