Unable to Read or Write After High School, New Business Teacher Persevered
Torres Aims to be a Force for Good at School & in the Community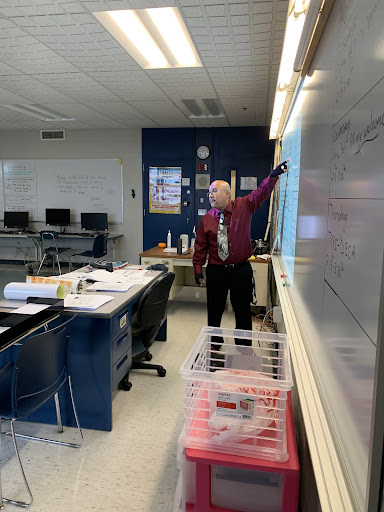 Torres is one of the newest additions to the Triton Regional School District, one of 60 new teachers, Torres stands out. Torres led a difficult life, a life where the path was not clear. But one thing was, to give back to his community. 
" My goal was always, like I did at the boys and girls club, school first,"  said Torres. "I made sure they had tutors, that they did their work, and no one had below a 3.2 GPA. So if a kid wanted to go to grad school they could go to grad school somewhere. That's my greatest accomplishment, it's not the winning, its making sure kids go where they need to go"
In the 8 years that Torres coached basketball only one player didn't graduate. Even while making sure his kids had the ability to perform in subjects other than basketball, making basketball a second priority. Torres led the team to a total record of 64-32 never having a losing record. In his fourth year of coaching they went 32-0, won the league title and made it to New york for the NCAA tournament. 
Torres led a life without a father figure and without a solid homestead.  Growing up in one of the most dangerous and hostile parts of New York, in a section of the Bronx, Torres was handed nothing. He attended The Boys and Girls Club, a place for underprivileged kids without the means or money to pursue athletics, academics, or other areas of life. He found father figures such as Steve Kelly, Billy Robenson, and Timmy Howard, which were people he met while attending The Boys and Girls club. 
"At that place I became the person I am now, a community person," said Torres. Amazingly Torres was able to escape the system, meeting Sydney Boxtun who worked at Worcester State University. There he was told that although he graduated Lawrence high school in 1988, Torres was still at an elementary level of reading and writing, barely able to do both. But that didn't bother him, still Torres pushed through. 
Finally he caught a break, and he switched over to be the head coach of the Bradford College basketball team as the head coach left for another job. He recommended that Torres should get the position. Harry Devacos, the athletic director for Bradford handed him the position, in-trusting in him at 21 years old that he would lead the team. And he did, never having a losing record. Torres led his team to countless wins while being the youngest NCAA basketball coach in history. Bradford gave him the opportunity to attend classes, free of charge. Now Torres owns his own business as a financial consultant, which he has been running for more than 10 years, and now he is also a business teacher here at Triton. 
Torres chose Triton for three reasons. He has known Joseph Celia his whole life as they went to highschool together, it's closer to home, and he really liked the DECA program. As I interviewed Celia he confirmed my beliefs of the morals that Torres has. Saying that Torress is a "big time community person" "Frank will often in his career, get a family from his school district, and help them acquire a home" Celia went on about how Torress does a lot of good things for the community
As I interviewed students that took his class I got the same feeling that Torres was a different type of teacher. A teacher that taught material that would be used in real world life, material that would help us as young adults. 
Griffin Dupuis, a senior at Triton High, went on about how Torres was teaching us as if we were adults not kids. Taking his financial literacy class Dupuis could see that the material he was teaching was important. Dupuis said, " I love his class, I feel like I'm learning actual useful information that I can use in real life, unlike a lot of my other classes." 
Dupuis has only had Torres for a couple weeks but already he can see the type of person that he is, stating that he thinks Torres is an active member of his community. When I asked if he thought Torress was doing it for the community not the money Dupuis said " oh 100%, he's doing it to lay his knowledge and his information on us, so that we can use it to be successful in life" 
Leave a Comment