Big Skates to Fill
2021- 2022 is a rebuilding year for Triton's hockey team
The 2021-2022 Triton Varsity Hockey team for the upcoming season is going to have a lot of new faces this year.   Captain Cole Daniels says that he has been working hard to get the team ready for the upcoming season.  The 2020-2021 Team was a hardworking strong team that won the CAL championships with an 8-1-1 record. However, after losing 12 seniors this year's team has a lot of rebuilding to do.  
As this year's captain, Cole Daniels has been working to get the team ready for the upcoming season.  Over the summer he set up team workouts at the beach. As well as renting out time at various hockey rinks for the team to have captain's practices to prepare for the season. While most people on the team have been at the captain's practices, many have also been working out on their own to get ready.  " I have been working out 5 days a week and running almost every day to prepare for the season," said Conner Houlihan.
Although the team has been working hard, many players said they believe that the offense is going to be the main thing that the team will have to rebuild this year. " We really only have one strong returning offensive line," said Braeden Mcdonald.   Losing most of their offense and their first line of defense this year's team will be full of new faces especially on offense. " We lost a majority of our offense last year so that's going to be a big obstacle that we are going to have to overcome if we want to go anywhere this season" Cole Daniels. 
However, most of the players also said that they believe in their strong defense. " The defense is the only good part of our team." said The team manager Kyle Boulay.   " We are lucky we have good defense because our offense stinks," said Gavin Colby. 
Even with the odds against them.  The players also said that they hope to get to the state tournament this year. Last year unfortunately because of covid the state tournament was canceled and the team did not get to compete. It will be an uphill battle on skates but hopefully, these Vikes can maintain the CAL title and make it to the State Tournament.
GO VIKES!!
Leave a Comment
About the Contributor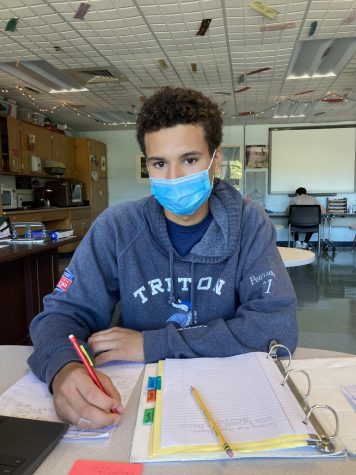 Colin Pearson, Writer
Hey, I'm Colin Pearson. I am a junior at Triton High School. In school, I love to play sports. I'm on the golf, hockey, and lacrosse teams. So that's...