Coming Together for the Environment
Passionate Students Come Together for Environmental Action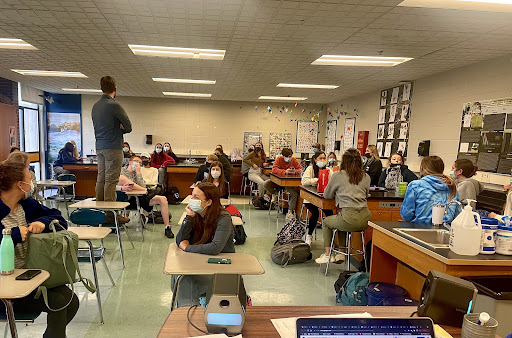 Nearly 40 students crowd around lab tables in preparation for the first Environmental Club meeting of the school year, with a sense of excitement in the air for being back with the club in a more normal setting, with more members than ever.
Embarking on its third year, Environmental Club (formerly known as Bird Club) is back and ready to have a productive year and involve as many people as possible in the process. 
Since clubs are able to be back up and running in full capacity this year, new groups are sprouting and existing ones are working hard to regain momentum for the school year. Environmental club leaders and members shared their experiences with the group and why students should join, especially this school year.
Before Environmental Club came into existence, Triton science teacher Thomas Horsley ran Bird Club after school. Regarding the switch from Bird Club, Horsley said that he and members wanted to broaden their horizons and that "students wanted to get into making Triton a greener place." The students additionally have glowing opinions of Mr. Horsley, who advises the club and organizes all activities and fundraisers. "He's amazing," said club member Isabella Savino.
This year, the club is led by officers Ella Thompson, Sidney Golbitz, and Sage Woodward. When asked about plans for the year, Thompson replied that "this year we are going to plan a lot of fun field trips, and reinstate the school recycling program." 
After 4 meetings so far this year, the club has made a sign-up sheet for students who wish to help with recycling around the school for community service hours, as well as bringing out the recycling bins for the first time since March 2020. The recycling program will return next month, much to the relief of many students and staff who are passionate about the environment. 
"
The recycling program will return next month, much to the relief of many students and staff who are passionate about the environment. "
"I am excited to get the recycling program going because Triton needs it," said Haleigh Harris, an involved addition to the club this year. "I like knowing that even just by being a part of this club I can make a difference," said Harris. "I hate the idea of climate change and the fact that my potential children would live in a society that is environmentally unstable."
The Environmental Club also worked together to brainstorm design ideas for the club's big merchandise of the year, a blue crewneck being sold to support the Parker River Wildlife Refuge in a project for Blanding's turtles held annually. After asking for an opinion on how the first few meetings have gone, the response was overwhelmingly positive. 
"Everyone was really chill, and I liked being there," said club member Isabella Savino. "It's a safe environment." Club member Emelia Hight added that "Environmental Club is really fun and everyone should join."
The leaders and members of Environmental Club know the importance of promoting the club and were overjoyed to welcome the highest number of students ever into the club this year while continuing to spread the word through posters and representation at club fairs. 
When asked why she originally joined the club, Ella Thompson replied; "I joined because I wanted to help the environment and because Mr. Horsley hyped it up a lot."
 All leaders and club members are eager to continue their hard work to make Triton a more environmentally friendly place. 
"Making your school and community a greener place is a rewarding thing, and you're doing it alongside fun and supportive club members," said Horsley. "And there's candy, why wouldn't you join?"
Are you a member of Environmental Club?
Sorry, there was an error loading this poll.
Leave a Comment
About the Contributor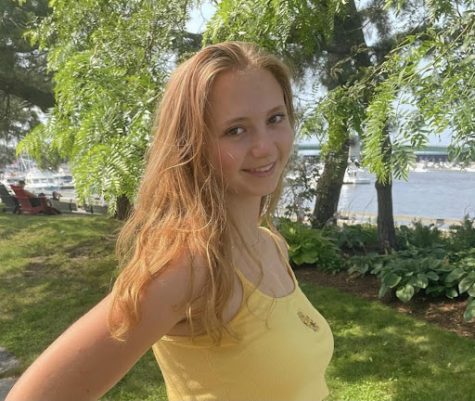 Sage Woodward
Hi! My name is Sage Woodward and I'm a senior at Triton High School. I really enjoy participating in clubs and activities and getting involved. I'm...