Tickets to No. 1
Machine Gun Kelly has come out with a new album, "Tickets To My Downfall", and people have a lot to say about it.
On September 25th, 2020, Machine Gun Kelly came out with a new album titled "Tickets To My Downfall".  "You're a fraud if you haven't listened to this album!" said an anonymous source. This album is loved by many, and according to Billboard, it earned MGK his first No. 1 album on the Billboard 200! Although the album came out less than a week before, the set earned an equivalent of 126,000 album units in the US during the week ending on October 1. An album unit means the same as the purchase of an album, but as a stream of a song/album or singular song downloads. 
MGK describes this album as "pop-punk" and was written and produced with the drummer of Blink-182, Travis Barker. Another anonymous interviewee said "I really love MGK with Travis Barker on the drums. Concert for aliens sounds a lot more like Blink-182 than some of Blink-182's own songs." This album was Machine Gun Kelly's first time writing anything rock, and it seemed to go over pretty well. Barker is well known for his rock and roll, and was a great mentor for Machine Gun Kelly. This great collaboration  "Tickets To My Downfall" has topped both the Billboard 200 and the Top Rock Albums chart. "I think his transition from rap to rock and roll has been extremely successful, and it shows how talented he is as an artist. As an Eminem fan I clowned him for getting absolutely destroyed by em, but now I quite enjoy his rock and roll music." says Joe Powis, a Junior at Ipswich High School. He enjoys other music by Machine Gun Kelly, and was pleasantly surprised to like this new genre that he is working with.
In  an anonymous poll of Triton students who had listened to MGK, the top voted songs were the songs "kiss kiss" and "bloody valentine" which were both tied for most votes.  In the poll, most reviews were positive, such as:  "I love that he can switch up his style and still make it sound so good, this album was well anticipated and did not disappoint." 
Although this album is a hit with most of those surveyed in the anonymous poll, not everyone loves it. Sophia Rush, a Senior at Winnacunnet High School panned the album. "It's not really what I like to listen to, I didn't like any of the songs."  Counter herself as a fan of alternative and pop music who  wouldn't be found dead listening to Machine Gun Kelly, Rush is simply not down with MGK. . Jason Plummer stated that "It was better than what he (his son, Josh) usually listens to, but this just is not my style." The junior Plummer  usually listens to hip-hop and pop which Jason is not a huge fan of. This album is not his usual music and being that this is his first pop-punk album, MGK has a lot of growing to do with the new genre he has been working on. 
Leave a Comment
About the Writer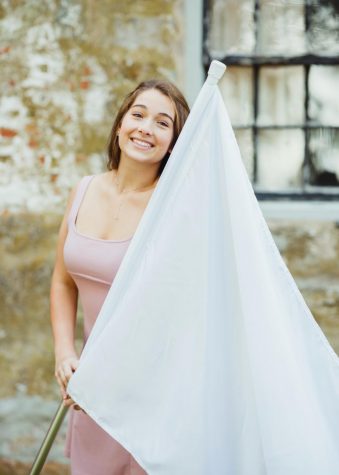 Sammie Mariniello, Staff Writer
Hi, I'm Sammie Mariniello. I'm a 2021 Senior at Triton High School. I am as deep into the arts program as one can be. I am captain of the color guard,...