Covid's New Pre K Class
Mrs. Morgan Boselli, an old second grade teacher at Pine Grove Elementary School, takes on the world of Pre K
Mrs Morgan Boselli is a fresh face in the Pre K department at Pine Grove School. Although Mrs. Boselli is known in the PGS community because of her past as a second grade teacher, this is a new phase for her. She says that it is always hard to go down grade levels as a teacher, but that she's enjoying it so far. She has 2 little boys at home, one in kindergarten and one in third grade, and being in Pre K she only works part time, which means more time with the family. This family is pretty active too, which means less work, more play! They love to go on bike rides, hikes, and spend lots of time at the beach over the summer.
"I think that where we thrive the best," says Boselli. "Just being outside and being active together." And with Covid-19 on the loose, this family has been spending more and more time outside, just soaking in Vitamin D.
When they're not out in nature, they are at home doing their school and work, both for Mrs. Boselli. Although she's been a teacher for forever, Mrs. Boselli claims that it is harder to teach your own kids than someone else's. "My boys behave better for people other than me, so I think that it's always easier to work with other people's kids." she says. Having to teach her kids at home and her students at school has been difficult, but she says she has been enjoying the teaching time. "Every day is different. Its not a boring job. I'm never sitting down, you know? I don't have my (apple) watch buzzing at me to tell me to stand up or walk around." 
Many students love Mrs. Boselli, both as a teacher and as a person. I spoke with 2 students from her second grade class 10 and 11 years ago, and they still remember her well. "I remember she was the sweetest ever!" Bridget Tucker states. She loved Mrs. Boselli, and looks up to her as a teacher. Bridget wants to be an english teacher one day, and she claims that Mrs. Boselli is one of her inspirations and role models. She loved the way that she brought the class together, especially during story time. "She was such a good story teller, like when she'd read stories aloud I got really into them." Tim Rasmussen also loved Mrs. Boselli. He says that she was one of the best teachers he's ever had. "10 years later and I still remember her class, and I barely remember what I had for breakfast." He loved the way that she taught every subject, even math which he always disliked. "Mrs. Boselli had a way with her students that made me feel comfortable in the classroom. I think she will do amazing with the Pre K Students." I think she will be rocking the Pre K classroom this year and for as many years as she wants, hopefully many.
Leave a Comment
About the Contributor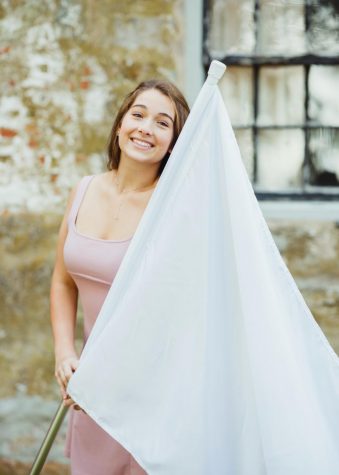 Sammie Mariniello, Staff Writer
Hi, I'm Sammie Mariniello. I'm a 2021 Senior at Triton High School. I am as deep into the arts program as one can be. I am captain of the color guard,...