New Classes Coming To Triton
By Liam Murray and Derek Cotter
C Period, Journalism
Triton is bringing 12 new courses into its repertoire of classes for next year. Here is the scoop on all of the new classes being introduced in the upcoming school year. 
Our Principal Mr. Patrick Kelley asked all the teachers for suggestions for new classes and just about all the proposed ideas will be options next year. The 12 new classes will be in the course selection guide and depending on who signs up to take them a student could find himself in a new class next year. 
Among the new classes are Creative writing, Travel literature, Memories, "Everyone has a story," American studies, Immunology, Chemistry in the community, American history through film, Jewelry design, Spanish conversations, CP Statistics, and Senior projects.
All of the potential new classes were proposed by existing teachers and if they get enough sign ups will be taught by the teachers who proposed them. I think this is a great way of introducing classes because there's nobody that knows what the student body needs more than teachers. Our teachers can, on a large scale, gauge the general knowledge of students on different subjects and when they notice a lack of understanding they can propose courses to bridge those gaps in our understanding of subjects. 
Our principal Mr. Kelley makes it clear that his intention with these new classes is to truly cater to what Triton staff believes the student body needs and would enjoy.
 "All the classes that were suggested we are trying to find a way to make them happen, so we can give everyone an option that they would enjoy. We were really trying to make sure all the teachers proposing these classes were passionate about them and truly wanted to teach them as well as we wanted to make sure our students would take them," said Kelley in an interview.
If the most important factor in solidifying new classes is whether or not students will take them, it's important to know how interested students are in each of these new options. Even if a student liked all the new classes.
We asked around Triton to hear a few students' opinions on the new classes. The classes with the most interest were Spanish conversations and chemistry in the community. The Spanish conversations course was talked about last year, and is likely to be one of the classes that will have a good amount of sign ups next year. 
We also asked students what they would like their teachers to know when they start teaching these new classes. An anonymous Triton student said, "don't just assign busy work for homework, give us something that will help us and we will learn from." 
Any tips that students have for the teachers who are bringing these new classes are helpful. These new classes are something different for not only students, but the teachers too, who haven't taught any class like the new ones coming next year. 
Some of these classes will be full credit classes and some will be half credit, single semester classes. Something different, however, is that the new American studies class will count towards an English class and a history class credit. Anyone interested in taking this class will be getting more bang for their buck with just one class and two credits.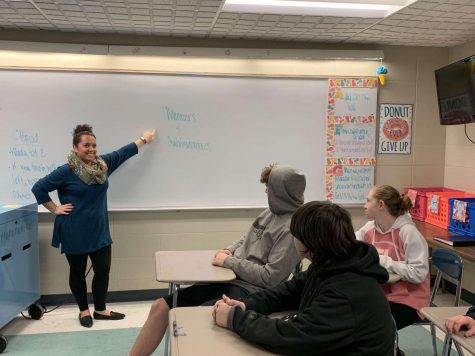 About the Writer
Liam Murray, staff writer
Hi, my name is Liam Murray I'm a senior at Triton High school. I do winter and spring track and in the summer I work at a boat camp for kids, I enjoy hiking...