The Reality of Being an Immigrant in the US
Mahud Villalaz, 42, suffered second degree burns after getting acid thrown at the left side of his face last week in Milwaukee.
The incident stemmed from an argument between Villalaz and a 60 year old man, quickly escalating over parking. Then the man said what has been a controversial sentence over the last few years: "why did you come here and invade my country." After the response of Villalaz telling the man "I am indeed a United States citizen," things got violent. 
Immigration has been one of the leading controversies within the modern realm of politics and citizen opinion and has been a leading factor in splitting the country politically for the past few years along with the election of Donald Trump. With his tactics of immigration control, and his known slogan "we will build a wall," many citizens to this country question if immigrants are even interested in coming to the United States anymore. Many times they may want to avoid situations like Villalaz, a hate crime.
With the beginning of the construction of Trump's proposed wall in 2016, and establishing stricter immigration policy, many living here agreed with these improvements for safety purposes. "I feel that Donald Trump is doing this all for the benefit of our country," said Brycen Cray, junior.
Triton Voice interviewed two immigrants from two different countries and asked how they feel they are treated living in the modern United States society. "They want to know who I am, and where I come from. Its doesnt affect me that people ask where I am from, it's normal" said Robi Ullah, formally from Myanmar.
Many come to this country for different reasons, whether it's to seek asylum, or for the benefit of their future. "I came here for more opportunity," said Debora Jimenez, formally from Guatemala. 
"
I came here for more opportunity"
— Debora Jimenez
"Some students are here with their families but many are here alone. Most are seeking more opportunity and security," said Lara Weis, ELL teacher (English language learner teacher) at Triton High School.
In the most recent years, immigrants have gotten a bad reputation from many Americans due to the crimes that some have committed when arriving in this country. Alot of the crimes are the high amounts of drug trafficking that occurs along the border. "Drug smuggling along the border is like a balloon, experts say. If you squeeze one part, the air simply shifts to another" said a retired law-enforcement expert in the article "Drug Smuggling, and the Endless Battles to Stop it" from USA Today.
Many immigrants who come to this country, come here from war torn countries, and usually end up in the United States at a very young age. "My country has a war problem, so they brought me here" says Ullah.
Many immigrants try to advocate for their fellow loved ones and friends. "We have really nice people, and we have a really good education," said Jimenez.
With teachers such as Weis running the ELL program, kids that arrive are ensured to have a more enjoyable highschool experience, as well as a promised better education. "My goals for the EL students include English proficiency, full access to the curriculum here at Triton and eventually a high school diploma with a solid plan for after high school. I would like to see all students have an equal opportunity during their years at Triton," said Weis.
With schools and communities such as Triton gaining more acceptance towards immigrants and their reasoning for being in the United States, it will not only make a more positive community, but it will significantly reduce the potential hate crimes an immigrant will have to face such as Villalaz. "There have only been a few isolated incidents where students have felt targeted. In general, I have felt that the Triton students are curious and engaging with our EL population," said Weis.
About the Contributor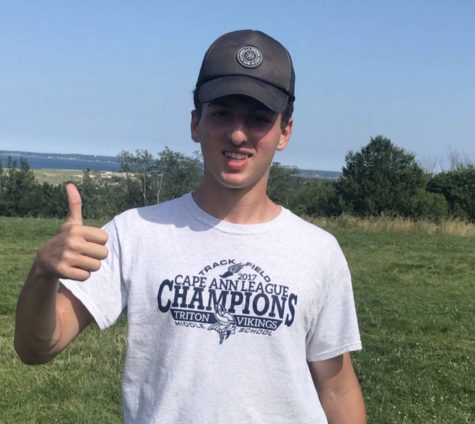 Nick Pagliarulo, STAFF WRITER
Hi! My name is Nick Pagliarulo and I currently attend Triton High School. I am a Junior and this is my first year being a part of the Triton Voice journalism...