Does Antonio Brown have CTE?
A Theory Built Around A Horrific Head Injury
Antonio Brown, a famous wide receiver who is currently a free agent in the NFL, might suffer from CTE due to repeated concussions and hits to the head.  Brown was a relatively drama free player up until a 2016 incident might have changed his brain forever. 
Brown has been playing football since Pop Warner Football in Elementary School like the majority of NFL players. Pop Warner is available to kids as young as five years old.  The repeated head injuries are dangerous especially if someone has been playing football for 26 years like Antonio Brown. 
Triton psychology teacher Ms. Lewis said concussions "affect your brain in a very dangerous way, you can suffer from memory loss, different types of brain damage, and suffer from long term effects as well."
Lewis is correct but concussions can affect someone in many more ways and even lead to CTE. A concussion is a traumatic hit to the head. The possible symptoms are headaches, fatigue, amnesia, confusion, nausea, sensitivity to light, and irritability. The long term effects Lewis mentioned is what experts believe is CTE. 
"
I've definitely had a few concussions and I think it's affected my memory and just overall ability to pay attention."
— Matt O'Neil
CTE is short for Chronic Traumatic Encephalopathy. CTE is a disease that results from repeated head injuries like concussions. Symptoms of CTE usually don't appear until years after the injury. As time goes on CTE gets worse because it deteriorates the brain and can lead to dementia.  The common symptoms are behavioral problems, mood swings, and problems thinking. 
"I've definitely had a few concussions and I think it's affected my memory and just overall ability to pay attention." Said Triton Football Player Matt O'Neil. 
Brown has been playing football for 26 years which is plenty of time to develop CTE  and even appears to be exhibiting the symptoms and signs of someone with possible CTE. 
"It seems like he is losing his mind. The decisions he has made have destroyed his football career which is his job, the way he makes a living." said Triton senior Jack O'Keefe
Jack O'Keefe has had nine concussions and can relate to being affected by head injuries. O'Keefe claims he doesn't think his personality has changed at all since having nine concussions. However, O'Keefes GPA has dropped from a 3.7 to a 2.4 GPA which might be related to his several concussions. 
When Brown was traded by the Steelers to the Raiders for draft picks during the 2019 draft. During Brown's time with the Raiders he threatened to retire because the NFL wouldn't allow him to wear his outdated helmet anymore. The outdated helmet Brown liked to wear allowed for more vision because the face mask went further back on the sides. The new helmets Brown refused to wear because he claimed it took away from his vision, which it did for safety purposes. For such a tiny change getting such a reaction out of Brown is surprising especially when he threatens to retire from his job. Brown didn't show up to his teams training camps and Raiders General Manager Mike Mayok told Brown to be all in or all out of the program. The Raiders also voided Browns $29.1 million in guaranteed money after fining Brown for conduct detrimental to the team.  Brown then posted a bizarre video of himself on social media of him shouting IM FREE! IM FREE! and flapping his arms like wings as if he was a free bird soaring. Brown later went on to sign a contract with the New England Patriots for a contract worth $10 million guaranteed. Brown
"He has mental health problems and needs help. It's not because of head injuries that he's acting this way it's about the money." said Triton senior Ethan Tremblay who has had two concussions
After the Raiders organization voided Browns contract he knew the only was he was going to make money was by signing with another team so he started acting crazy to get released.Brown doesn't seem to care about his actions until it effects if he gets paid or not. In Brown's apology to the Patriots and Owner Robert Kraft he mentioned that if they're going to pay him they might as well play him. 
"Their is no denying it. The facts speak for themselves. Antonio Brown has been off the wall for the past few years. His perception of reality and himself is extremely distorted. But I think he should still be on the Patriots because he's really good at football." said Triton senior Andrew Valianti. 
Brown doesn't seem to be concerned about earning a cozy salary doing nothing if he is willing to play. Despite what people might think about him being just about the money or having too many head injuries to play doesn't matter because it comes down to what he believes and if he believes he is mentally ready to play then he should. 
"Getting a concussion sucks but it's part of the sport. If you choose to play football you can either get over it or don't play." said Triton senior Tyler Yescalis 
It is Browns decision whether he plays football or doesn't. If he wants to create drama and get himself forced out of the league then he can do that. But if he is serious about playing he needs to get his act together and get help for his problems. 
Leave a Comment
About the Contributors
Kyle Noonan, Staff Writer
Hi, My name is Kyle Noonan. I'm a senior at Triton High School. I play three sports; football, wrestling, and track and field. I work at Tendercrop on...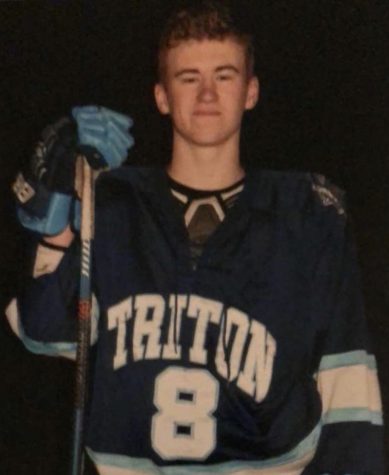 Jack Niska, Staff Writer


My name is Jack Niska. I'm a senior at Triton High School and I'm from Rowley.

 I play hockey and lacrosse and work at a Marina in Rowley...