The Dirty Laundry of T.M. Landry
Louisiana School Makes Headlines for More Than College Acceptance Rate
A young college applicant sits patiently at the edge of a table. With his chin on his forearm, a computer screen illuminates his face. Dozens of fellow students gather around him. His eyes stare intently for a millisecond, he takes a deep inhale, and instants later, he jumps up from his chair, ecstatically screaming for joy with his peers. This student is 16 year-old Aryton Little, and he has just received an acceptance letter to his dream school: Harvard University.   
This scene has been viewed over eight million times. Little is a T.M. Landry student, and at his school, it is tradition for college applicants to be recorded opening their school's decision letters.
"It makes me so happy," said Triton sophomore Lauren Hall after first viewing Little's video. Both her and junior Maddie MacDonald had a similar reaction to Little's acceptance: one of pride and joy. This same pride and joy was likely felt throughout many of the video's viewers, and perhaps that it why it went so viral.
Recently, Louisiana school T.M. Landry has come under fire for falsifying students records to achieve a 100% acceptance rate into dream colleges, including N.Y.U., Harvard, and Princeton.
"When you see these videos, you want that," said T.M. Landry parent Ms. Lewis when describing how the school's videos and online buzz created an incentive for her to enroll her children.
These videos depicted the "T.M. Landry Story" as one of great triumph and accomplishment to its viewers, however it masked a reality of deception and anguish.
According to their school profile, T.M. Landry College Preparatory was first established in 2005 as a homeschool for only six children by husband-and-wife team Michael, a former salesman, and Tracey, and nurse. Today, it is a well-known K-12 private school where Michael is a teacher and Tracey serves as principal with 142 students enrolled. Parents spend up to $725 monthly for their children to attend. As stated before, the school became known nationally as a well-established institution, making appearances on television through NBC, the Today Show, and Ellen.
T.M. Landry has gained an assortment of rave reviews up until November of 2018, when The New York Times published an investigative report describing the disturbing truth of Landry's "success."
The Times interviewed 46 people involved with school either currently or in the past, including parents, teachers, and students. Those interviewed shed light on the negative aspects of T.M. Landry. Affiliates described stories of abuse, where children were forced to kneel for hours or grabbed by the throat, as well as intimidation, where students were told to embellish on how a parental absence, poverty, or drug addiction affected their home life. Additionally, the school's administration has been accused of lying on student transcripts, claiming students are taking classes they do not take, and receiving invalid grades.
"I think [T.M. Landry students] are being taught the wrong lessons about how to go through life," said junior Maddie MacDonald. "It makes me feel bad because I work hard for my grades and in my classes, and then this kid [Little] is getting into Harvard at 16 because of classes he could care less about, or didn't even take."
"It's really horrible to think about how T.M. Landry's methods affect their own students psychologically. If you know your application had to be embellished in order to ge
t an acceptance letter, you know you didn't really earn that spot," said senior Allie Hawkes.
"I think I agree with Allie," said fellow senior Erica Lops. "You might never know if you actually earned it if you were told to lie to get into that school."
Perhaps the most substantial impact T.M. Landry will have is not a realization of the American Dream (where low-income, non-white families are accepted into the Ivy League), but instead the creation on an inadequate generation of youths who's history of abuse and poor education will follow them throughout their lives.
About the Contributor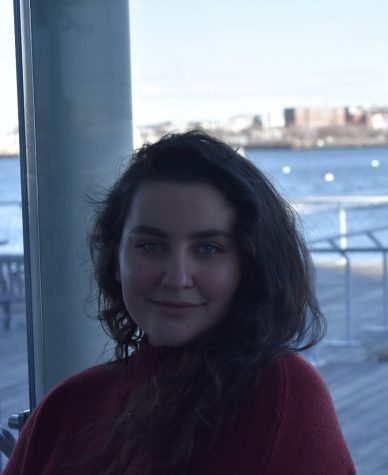 Grace Poster, Staff Writer
Hi, I'm Grace Poster, a senior at Triton Regional High School. This is my first year on Triton Voice, and so far I greatly enjoy writing about student's...