Out with the Class of ´23
Ms. Densmore announces her retirement after teaching generations of students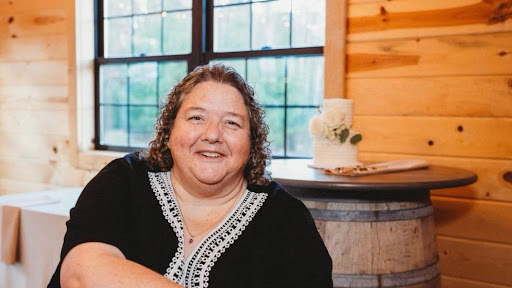 From being educated in these halls herself to educating the next generation of kids coming through, Ms. Sue Densmore has announced her retirement after 35 years of teaching the arts.
On Friday, April 7th, Ms. Densmore announced her retirement to her students by calling in the band, chorus, and sound tech members for a meeting to let them be the first to know about her decision. Densmore has spent 35 years teaching and coaching for volleyball, softball, marching band, singing groups and various other classes. 
During this meeting she held at the end of the half day Ms. Densmore said, "After a lot of consideration I have decided to go out with the class of 2023, and this will be my last year of teaching."
Following this announcement many of her students had things to say in response to the news that they had received. 
Carmella Cotter, a senior who has been a part of the arts program since elementary school said, ¨I knew something was up, at our Winter concert so many alumni came to join us in the winter sing-a-long. More alumni than we have seen in years, it seemed like they had wanted to show up one last time for their teacher.¨ 
 When Ms. Densmore was asked why she chose to come back and teach at her high school. She said that she had such a great experience at Triton, and wanted to provide this memorable experience to the next generation of Triton's students. "It's my school, I had a great experience here and we had a great time." 
Densmore reflected on her time here at Triton very fondly with many events like being stage manager for drama club, and at one point in 1984 being the entire pit bandwith my keyboard.
 Densmore also said,¨my favorite memory was when we did Joseph and the Amazing Technicolor Dreamcoat and on opening night the first time we did the opening number, it got a standing ovation, the show sold out 800 seats for the next 4 days.¨
During Ms. Densmore's time teaching at the school she has helped conduct and organize around 70 school concerts, various spring musicals, and even trips to Disney for the performing groups. 
Elise Blanchet, a junior who has always loved to be a part of performing groups said, ¨Even though this is my first year in Jazz Choir with Sue, I have had such a great experience with the group and her class is just so welcoming.¨ 
Densmore's entire time here as a teacher was to make the gift of music accessible to teenagers as well as give them the experiences that they will remember for a lifetime. 
¨I will miss my students and the people part a lot. I find high school students highly entertaining and generally intelligent and thoughtful,¨ said Densmore. 
While Densmore will for sure miss the school, she has plans to possibly find a part time job proofreading, doing more for her church as well as spending some time traveling, like with  roadtrips and ¨adventures with my posse,¨Densmore said. 
Colin Webber, a senior who is in the Jazz Choir said, ¨She is truly a woman who won't be replaced. Her talents have shined throughout her time here at Triton and she will be truly missed.¨