Spring Sports in Full Swing
Triton Athletics Aiming High
Winter athletics are officially in the rearview mirror and the spring sports circuit is in full swing at Triton.
Baseball, softball, lacrosse, and track are underway in Byfield after a very successful winter season for the Vikings.
They hope that success will be mirrored in the spring of 2023.
Junior lacrosse player J.P. Trojan feels as though the team had a hot start, but needs to return to form with the season now underway.
"During our preseason scrimmages we went undefeated, but a few injuries sort of derailed the momentum we had."
Lacrosse has begun the season 2-4, with wins against North Reading and Wilmington and losses at the hands of Newburyport, Lynnfield, Bishop Fenwick, and Methuen.
One loss in particular, a 10-0 forfeit loss to the archrival Clippers, caught some attention. Triton was left without a goaltender for the game, leaving the team scrambling and eventually having to forfeit the game.
"It was a tough situation," said Trojan. "We didn't know what to do and we decided that it would be best if we didn't play and wanted to reschedule the game, but Port didn't want to."
Triton superfan Terry Corcoran, known as TDog, told a Triton Voice reporter he walked all the way to the game before finding out it was forfeited by a member of the student body.
Amongst their Georgetown counterparts, Triton is led by senior captain Braeden McDonald, freshman Mike Taylor, and junior J.P. Trojan.
Meanwhile, on the diamond, our baseball and softball teams are off and running as well.
Former coach Christopher Lamoth's departure as head coach of the baseball team m after just one season at Triton has paved the way for new 24 year-old head coach Kyle Priest to make his mark.
Priest stood out to us because he could relate to the students since he just recently played college ball," said junior player Jack Lindholm who was a part of the interview process. "He knows his stuff when it comes to baseball."
Baseball is off to a 4-2 start after defeating Pentucket, Greater Lawrence Tech, Ipswich, and Salem. They are led by senior captains Griffin Dupuis and Tyler Egan, who deal on the mound for the Vikings.
On the softball front, it is abundantly clear that the group has Cape Ann League title aspirations this season, which would be their second consecutive CAL title .
For captain Reghan Haley, an internal mindset is what fuels her and her teammates rather than worrying about other teams in the area.
"…since we were so successful last year and are aiming for bigger successes this year, we need to beat the team we were last year rather than comparing ourselves to other teams in the CAL," said Haley.
Triton's prestigious Track and Field program is underway for their spring circuit as well, with more than 200 runners across the school. Both boys and girls are 1-0 to start the season.
"It's so popular because it is a successful program with zero cuts, and it's easy to do," said Triton runner John Prendergast.
Girls lacrosse is led by seniors Chloe Connors, Ally Pugh, Brooke Nangle, Julia Price, and Kayla Harrington, and coached by Stacey Beaulieu. They have an upcoming CAL matchup at home on April 28th against Pentucket, and are looking for their first win of the season.
Spring sports have created a significant buzz around the school, as fans anticipate successful seasons and strong Triton representation in the MIAA circuit. There is plenty of optimism for the future.
"We have a few tough games ahead of us but I believe that we can get on the right page and get momentum going into May," said Trojan.
"I think the group we have this year across both teams is outstanding and I think good things will continue to come from Triton softball in years to come," said Haley.
Leave a Comment
About the Contributor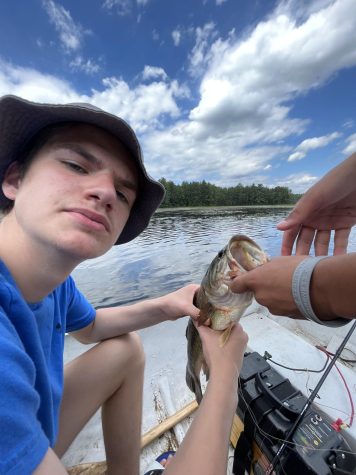 Aiden Szymanski
My name is Aiden Szymanski. I am a junior at Triton High School and a staff writer for the Triton Voice.

Outside of school, I keep myself busy with...