Atmosphere and Appetite Brings the Community Together
Park Lunch Restaurant is packed with locals every day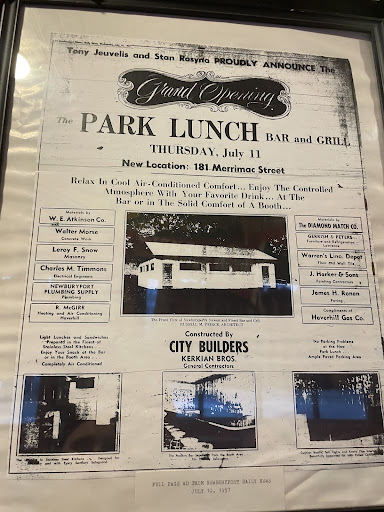 A place for community, friendships, and good food, Park Lunch in Newburyport is more than just a local pub. 
Park Lunch is Newburyport's longest running sports bar, having opened in 1957 is  a place for the community to come together, hang out, relax and eat some food. Between the various college flags placed up on the walls to the large picture wall of some of their favorite regulars and local sports teams, this restaurant gives off a home-like feel with a positive vibe.  
One of the last of their kind in Newburyport, many of the city's older residents come here to catch up on life and relax. Many local teenagers also find themselves drawn to the restaurant for the cheap prices on food but also for the atmosphere it creates.
After some obstacles this business has remained open and thriving for the past 66 years and counting and that's all due to the community. 
¨Back in 2004 the original Park Lunch burned down and that's when we moved next door to rebuild,¨ said Dan Wilmot the owner of the Park Lunch. 
This did not set back this restaurant too much and before they knew it they were back up and running once again. 
¨When we were rebuilding the community was great, they donated a lot to the waitresses and everyone who worked there to help keep them on their feet during the rebuilding.¨ Said Wilmot. 
While this restaurant has successfully stayed open there is a reason that so many people continue to go back time and time again. 
¨I love how homey it feels there and how it feels like there is always a nice community of locals there,¨ said Olivia Karvielis a junior. 
The feeling of home seems to be a very common feeling amongst many of the people that visit the park for lunch. 
¨Unlike the Black Cow and other restaurants downtown, it feels like you're being cooked a home cooked meal,¨ said Julia Price, a senior. 
This is one of the most unique features of this place, it's not located directly downtown making it appealing to many more people. 
¨We aren't downtown, we don't have the downtown prices and we aren't trying to be like downtown,… we have our own little niche here,¨ said Wilmot. 
The price is what brings teens to the small town sports bar after a big game or to have a quality meal with some of their friends for a fair price. 
¨Park Lunch is famous for its delicious fried clams. Family style atmosphere and sports bar. Serving pizza,burgers, and more. Take out available,¨ said the Park Lunch Website. 
Along with some great food they provide, the restaurant is popping with color and decor covering all the walls with local Newburyport sports teams, various Newburyport memorabilia, and loads of college flags. 
The restaurants slogan being, ¨Where the sports crowd huddles,¨ said the Park Lunch Website. 
Seems to be quite fitting from the decor that they have inside. Along with this it is not taken lightly if your sports team finds its way inside of the Park Lunch. 
¨Ít is an honor to have your picture placed on the wall, it means that your sports team has made it to States, not necessarily winning states but at least made it,¨ said Wilmot. 
The wall decor is just another reason many feel the homie feels when they walk through the door of the Park Lunch. 
¨I like being able to go there and feel so welcomed and grab a bite to eat with my friends for a cheap price,¨ said Ella Cadiex, a junior. 
While many teens go to Park Lunch for a bite, many older locals also find themselves seated at the bar or the booths within the restaurant. 
¨All of these fools at the bar are regulars and come in everyday, they are great,¨ said Wilmot. 
These regulars are what keeps this place with such great business time and time again and create the community and atmosphere that fills the restaurant.
¨Everything about the place is so great, it feels just like home, ¨said Emma Coco, a junior. 
While many people may just see this place while driving in and out of Newburyport thinking it may just be like any other restaurant. 
¨This place has a very family friendly atmosphere where generations come again and again,¨ said Wilmot.
For a place that seems like an average restaurant to the eyes yet has many surprises it may be worth a try. 
Leave a Comment
About the Contributors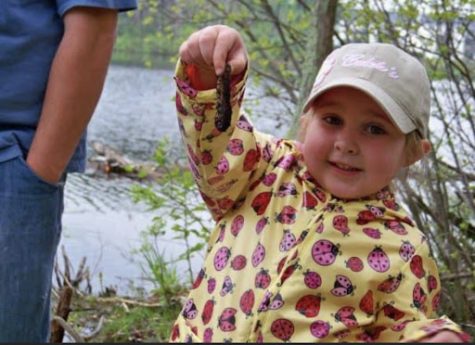 Molly Porter - Crean, staff writer
Hey! My name is Molly Porter- Crean. Currently I am a Junior at Triton High School. Within school I am a part of Student Council, Community Service, and...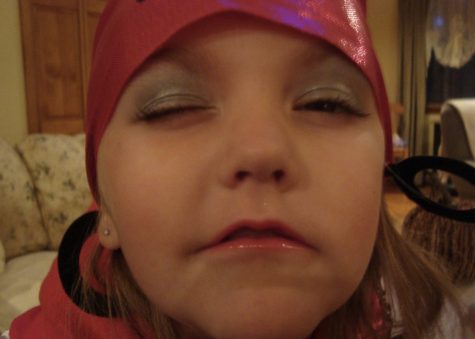 Alanna Sparks, staff writer
Hi! My name is Alanna Sparks. I'm a junior at Triton High School, While at school I look forward to some classes like forensics , journalism and vtv,...