'Three is the Key'
THS Football Wins CAL, Players Receive Recognition
By Aiden Szymanski
Staff Writer
An emphatic 46-21 Thanksgiving victory for the Vikings earned them a CAL Kinney Championship for the first time in over a decade.
While co-hosting the conference championship with North Reading, winning a share of the CAL Kinney title is quite the accomplishment for the Vikings who, despite being eliminated from the state tournament earlier than they would have liked, took consolation in receiving league recognition.
"That meant the world to me and I'm sure it meant the world to those seniors," said varsity head coach Eric Burgos in a recent interview. "Those are moments you're just not going to be able to replicate. That's a once in a lifetime."
"It was big for the program," said junior running back Cole Piaseczynski, whose 21 touchdowns led both the Vikings and the Cape Ann League. "It meant a lot to us to be recognized for the work we put in all year."

In addition to the CAL Kinney title, there was an abundance of personal accolades in the program this season as well. All five team captains – Max Ciaramitaro, Nathan Miller, Joshua Rodriguez, Cole Piaseczynski, and Ashton Wonson – received CAL all-star honors. Additionally, Piaseczynski received the CAL Offensive Player of the Year award, while Wonson received the CAL Lineman of the Year Award for a second consecutive season.
Among the accomplished, senior running back and linebacker Joshua Rodriguez reflected on his final season of high school football, one he had worked towards his entire playing career.
"The biggest thing that played out to how I hoped it would was beating Port," said Rodriguez when asked about his senior season. "It meant a lot more than people think to me as a player because I hate Port, we all hate Port…"
Rodriguez reflected on Triton's senior night win over Hamilton-Wenham in October as well. "Senior night meant a lot. I had a good senior night so I'm glad that happened, 100 rushing yards in the fourth quarter, just the fourth quarter, was nuts to have a senior night like that…"
Rodriguez also acknowledged his growth as a player for his senior campaign: "I produced a lot more than I did my previous years, and I had a big improvement in the offseason… my senior year was more than I actually imagined it to be."
Piaseczynski also spoke to the importance of the recognition he's received, who has had a spotlight on him since the beginning of the season as one of Triton's key offensive cogs.
"It's a huge honor," said Piaseczynski. "I think it's reflective of the work that was put in in the offseason. I'm very proud of what was accomplished this year."
"I'm beyond proud," Burgos said. "I'm like a proud dad that's obnoxious about it, you know?"
Burgos was happy with the respect his five captains received, but also believes that the players should have gotten even more. "…I think they got robbed in a way, but at the same time they know who they are, they know the work they put in, and so I'm super proud that they've been able to get some respect for their achievements. Obviously I think they should've gotten more."
Finishing 7-4, qualifying for the division 5 state playoffs, winning the CAL title and earning several personal accolades along the way was understandably a proper send off for Rodriguez, coach Burgos and this historic team.
"I feel like all of us getting the awards is a good little extra piece to everything, we definitely got recognition…" said Rodriguez.
"There's also the banner… that to me is crazy. I'll be able to look back in the year book and there will be a banner for us as my senior year. I think it's the best send off."
"There's no coincidence that they're improving," said coach Burgos in reference to Triton's vast improvement in records each of the last two seasons. "It's because they're putting work in when it really counts, which is the offseason."
"The next step for our program is to take the torch that these seniors have lit, and carry it and move it forward," said Burgos.
Leave a Comment
About the Contributor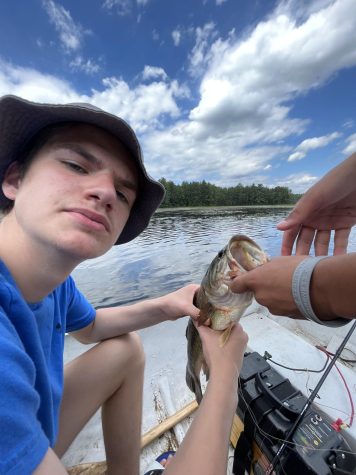 Aiden Szymanski
My name is Aiden Szymanski. I am a junior at Triton High School and a staff writer for the Triton Voice.

Outside of school, I keep myself busy with...