Educating the Next Generation
Teasing, name-calling, and words spoken in the hallways of Salisbury Elementary School were recently identified by Principal Kathryn Dawe as either slurs or simply unkind words towards the LGBTQ+ community, and it was determined that some education and advice from members of the high school GSA might help the issue. 
On Friday, February 11th, six members of Triton's GSA traveled to Salisbury Elementary School at the request of Dawe. Accompanied by Dr. Erik Champy, the students were there to address some issues regarding the language of the kids in the older grades at the elementary school.
Each member was responsible for one section of the presentation. August McLellan, who wrote their part about the rich history of members of the LGBTQ+ community, thought the presentation went well.
"The kids were receptive to what we had to say," said McLellan. Referencing a student who approached the group following the presentation and congratulated them on a job well done, McLellan said that "even if we just reached the one kid who came up to us at the end, that's one more than we had before."
Junior Griffin White contributed by teaching about the terminology of the LGBTQ community. 
"In a perfect world this would've never happened," said White, referencing the unfortunate circumstances that brought the group to the elementary school. "It's still good to educate the kids since, quite frankly, this world is the farthest thing from perfect."
Junior Colin Webber's addition to the presentation included an explanation of the Stonewall Riots of 1969 and the legacy they left for generations to come.
"Talking to the kids was a chance to truly have the experience of feeling like you had the opportunity to educate a young fresh set of minds to grow older and do the right things," said Webber.
Senior and vice president of GSA Will Sayles gave an uplifting speech about being yourself and respecting other people for who they are. This point was further exemplified by Sayles openly saying "I identify as gay" in a very confident and forward tone. 
The speakers said that while they believe the event was great for the elementary students, it was also a fun experience for them.
"It was so much fun to go back to my alma mater," said Webber. He was able to take charge of the question-and-answer portion of the presentation and made sure to give the kids complete answers to even some of the challenging questions.
White described the trip as "wholesome," saying "it made me happy that I was able to change lives, more or less."
Leave a Comment
About the Contributor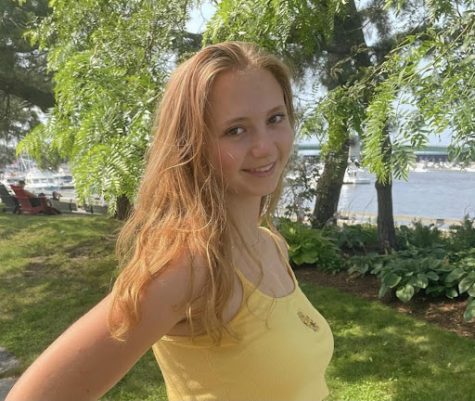 Sage Woodward
Hi! My name is Sage Woodward and I'm a senior at Triton High School. I really enjoy participating in clubs and activities and getting involved. I'm...