Covid-19: Original Strand vs. Omicron
One Triton family's experience with multiple strains of Covid-19.
One Triton family has had COVID-19 work it's way through their household multiple times. However, the details of the virus and how it affected the family were significantly different both times. For privacy reasons, along with HIPAA rules, the family asked to remain anonymous. 
The Omicron variant is ravaging it's way through the Triton community, with 366 cases in the last 30 days and counting. According to the CDC, Omicron cases account for 98% of total cases in the country. Omicron is 2.7-3.7 times more infectious than Delta. Reuter says that this is due to the fact that Omicron stays more in the upper respiratory region, compared to Delta which is in the lungs, which can cause pneumonia as well as other respiratory issues. 
Someone is more likely to get Covid if they are unvaccinated. According to Dr. Mark Sannes, "Your risk of getting COVID is 10- to 20-fold higher if you're unvaccinated."  Statistics show that 9/10 patients on ventilators in hospitals are not vaccinated.
If you were exposed to someone with Omicron, you are much more likely to get Covid than you would be if you were exposed to any of the previous strains of Covid. One person can spread Omicron to at least three people. 
"It was upsetting to be caring for individuals in the community when it was evident that so many were careless about the severity of the pandemic." Said the mother of the family, who has been working as a nurse throughout the Covid-19 pandemic. 
In January of 2021, one member of a Triton family had Covid-19. She was forced to quarantine in her room for 10 days. 
"She was quarantined in her room with bathroom privileges only," says her mom. "She was required to wear a mask when leaving her room and using the bathroom. She was required to use disinfecting wipes all over the surfaces she touched after each use. She had all her meals delivered to her door, and she was not allowed to see her pets. We used zoom to see her as she was not allowed to socialize outside her room. She had cold symptoms and lost her sense of taste and smell."
In December of 2021, three members of this family tested positive for Covid-19. All were vaccinated. "I got vaccinated in May, and had an appointment for my vaccine on the day I tested positive for Covid." Said the youngest member of the family. "It was pretty upsetting that I got Covid. I had always been a vigilant masker. All it took was one person who was positive at a family reunion." 
"My symptoms were almost exactly a lessened version of my vaccine symptoms," Said the youngest. "It was mostly a cold and I only had a headache for one day." 
The precautions that the family took during the second outbreak were very different from the first time around. Everyone in the family wore masks during the period of quarantining which went from ten days to five days. Once those five days were up, only the mother, who didn't have covid, wore a mask. 
"It was easier to have one person wear a mask rather than three, so I was willing to do that." she said. Nobody had to do an isolated "quarantine," but they all chose to stay in their rooms so that they didn't have to wear a mask except for eating. 
"I was the only one who didn't eat at the table. I ate on the couch so I could still see and talk to them, but I was far enough away that the virus couldn't be transmitted." the mother said. 
The mother of the family is a nurse and has been working throughout COVID. "I was required to go into COVID positive houses and treat patients in full PPE including hospital grade, fitted N95 masks," She said. "It was awful." She was also the only member of the family to receive a booster shot. "Even though we were all exposed at the same time, I think that the booster is the reason I didn't get covid. It was the one distinguishing characteristic."
The mother was able to get the shot prior to the rest of the family because she was a nurse. The father and the youngest were booked to get their booster shot the day they tested positive. The oldest didn't get vaccinated until early fall, so she was not eligible for the booster.
While this variant may not be nearly as deadly, especially towards young people, it is more transmissible, and we don't know the long term effects of Covid. You should be safe and wear your mask!
Leave a Comment
About the Contributor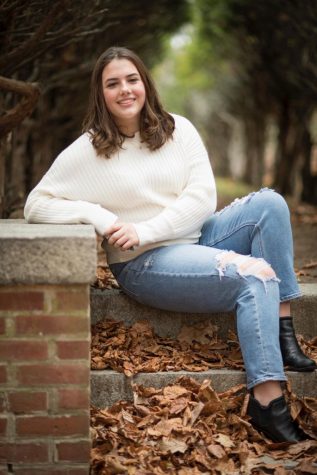 Haleigh Harris, Writer
Oh hey, didn't see you there! I am Haleigh Harris, a junior at Triton High School. I am entering my 10th year of playing softball, my 4th year of tournament...