Homework Helpful or Hurtful?
After a long, tiring day at school, you get home and all you want to do is lay in your bed and rest, but when you have 3 or more hours of homework to do it may seem impossible to relax.  
"I have no time other than going to school, going to sports, homework, and eating somewhere in between," said junior Riley Bell. Bell spends two to three hours per night on homework, she said. 
The amount of homework that gets assigned to students depends on what classes and levels of classes that they are taking. The homework guidelines are not very specific at Triton. Bell and Emma Campbell believe that homework is unnecessary and so they don't try as hard on their homework. The amount of homework per night for a junior that takes all CP classes and a junior taking all honors and AP classes is a huge difference. 
 In a survey done at Triton in 2018 one parent that responded said, "I feel like they are getting much more than the guideline indicates is appropriate." The Homework Guidelines posted on the Triton website, clearly states that students shouldn't be "overburdened" and many students feel that way. In the same survey that students filled out, 61.09% of the students said that homework was either never or rarely meaningful to them. What's the point of homework if it isn't meaningful?
As a junior taking all CP classes, Campbell has 30 minutes to one hour of homework per night. "Some nights I definitely do more than that," said Campbell, "some nights I do less." Campbell is a student-athlete, playing volleyball. "I think it's challenging because I'm a student-athlete, so it's hard for me to keep up with time management and it's hard for me to focus on both things, homework gets in the way, it's hard to find time to do it all." Which pegs the question, is homework really necessary if it gets in the way of students' lives? Campbell stated that her opinion is that homework is not necessary, "We do so much in class," said Campbell "then if they want to give us homework then why don't they just give it to us in class."
Bell has an incomprehensible amount of homework every night. Her schedule includes honors precalculus, AP language and composition, honors French, honors US history 2, honors physics, AP physics, and plays a sport every season. With all of that going on, Bell spends roughly 3 hours on homework every night. "I get homework in all of my classes, every night." When asked if homework was necessary Bell said, "I think everything that we do at home could be done at school."
Bell and Campbell have very similar opinions on homework, even with the difference in schedules, and the difference in the amount of time spent doing homework. Do you ever feel overburdened by homework?
Do you feel overburdened by homework?
Sorry, there was an error loading this poll.
Leave a Comment
About the Contributor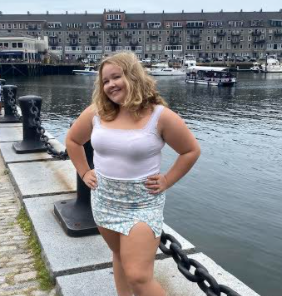 Emilia Joyce
Hi! My name is Emilia Joyce, and I am a junior at Triton High School. Outside of school I swim, play tennis and go to the gym as much as possible. I have...