Gas Mileage, Reliability, and Style
Students Detail their Top Preferences for Cars in our Community.
For any high schooler, a first car is something that will be remembered forever. Choosing a car and making it their own has been something teenagers get excited about forever, and Triton students are no exception. But how should a high schooler choose their first car?
Kids all over the US, and all around the world, dream of getting their license and getting their first car. Finally being allowed to drive represents a new freedom for high schoolers, and it's an exciting time in almost anyone's life. But there are many factors to consider when car shopping. Things like price, reliability, gas mileage, the number of seats, and vehicle size, all come into play.
One student who considers himself a car enthusiast at Triton is senior Zander Rolfe. Zander drives a 2015 Ford Fiesta, and said he does not enjoy the old school crank windows or the broken transmission that his car is equipped with. Rolfe also had some advice on car buying. For students looking for first cars, he recommends fuel efficient vehicles, like Volkswagen Jettas. 
"Stay away from Fords," he said, "They'll break down on you.". Zander has been spending some of his time car shopping with another Triton student, Sean Quinn. They have been looking at second generation Dodge pickups in Sanford, Maine.
Many students take pride in their cars, but there are also teachers who are proud of their vehicles. One such person is Mr. Joseph Galante, who drives a Jeep Gladiator. Gladiators have been controversial, with many car enthusiasts criticizing the vehicles, calling them ugly, but Mr. Galante is not discouraged by critics. "I love it," he said about his truck, "Knowing that everyone who sees it absolutely hates it.". He went on to criticize Mr. Patrick Sheehan's new truck, stating: "It looks like a mall crawler for sure.". The term "Mall crawler" refers to a truck or suv that is loaded with off-road capabilities, but is only used for daily errands.
What is the Best Car Brand?
Sorry, there was an error loading this poll.
Mr. Ivan Ferron, of the Triton science department, is another teacher who knows the feeling of loving a car. He was gifted a 1969 MG Midget by his father, at the age of 18. "My father told me if I could get it running, I could have it." he said. Mr. Ferron rebuilt the car and got it running, and spent years restoring it after that. "Because of that experience, I appreciate the beauty of a reliable piece of machinery." he added.
Mr. Ferron had some advice for students wondering what to consider when getting their first car. "It depends on the kid and what the use is," he said. "The trick is getting something good for your needs, but inexpensive.". He says local kids have a few more options in terms of cars, because they can find a ride to school if anything happens, but students who live further away are advised to find a very reliable vehicle. As far as reliability goes, Mr. Ferron recommends Toyotas. His experience with those cars' reliability has always been positive. "My dad has always gotten Toyotas, it's a really good car." He said.
Mr. Ferron recommends cars equipped with all-wheel drive for New England weather, and he said Subaru is a good brand for that feature. For kids who use the highway frequently, he suggests finding a very reliable car, because, around here, I-95 is among the worst places to break down. He drives a Honda CRV, and he is happy with the car's performance. It is very fuel efficient, getting around 40 miles per gallon. He said about the car: "I can haul stuff and it's pretty comfortable.". Mr. Ferron also strongly recommends that every student tells their parents the minute something doesn't seem right with their car.
Leave a Comment
About the Contributor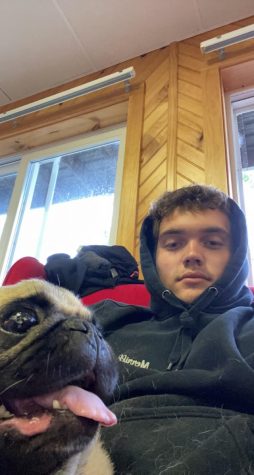 Dylan Merrill, Writer
My name is Dylan Merrill and I'm a senior at Triton High school !! Outside of school, I enjoy working with my dad, working out, making music, and supporting...