A Pleasant Fall Surprise
 Losing 5 seniors, and a lot of team bonding due to COVID-19, the Vikings and head coach Donna Anderson were not sure what to expect out of the 2021 squad. Surprising would be an understatement to how the Vikings started off the year. 
The opening game saw Triton dominate Newburyport en route to a 3-0 win behind senior captain Maddie Hillick's two goals. Hillick leads the Vikings (12-3-2) with 14 goals and 12 assists for 26 points, making her one of the Cape Ann League's best. 
"It was an incredible feeling," says Hillick after her Vikings beat the Clippers for the first time in 4 years. "Playing like that in our opening game really set the tone for the whole season." 
And set the tone it did. Triton built off that opening day win and rattled off seven more to start the season 8-0 with an impressive win over previously unbeaten Pentucket. 
When asked what the biggest difference was between last year and this year, Anderson said, "It's the team bonding aspect… These girls are dedicated to the sport and they love being around each other. Just being able to have pasta parties and team bonding activities make a huge difference." 
Hillick isn't the only reason for the Vikings success this fall. Junior captain Natalie Indingaro has been locked down on the defensive end of the field for the vikes, and has cemented herself as one of the area's most talented defenders.
Alongside Indingaro is freshman Sophie Chapman in goal. Chapman has been a huge part of the Triton defense knotting 8 shutouts so far and making some incredible saves. Complimenting Hillick are plenty of Vikings that like to share the wealth and get everyone involved. This group is headlined by fellow senior captain Paige Leavitt, Senior Channing Marengi, and Juniors Sammy Kelly, Ally Pugh, and Maya Sullivan. 
As the Vikes enter the home stretch of the season, a promising tournament run is ahead. Currently second in the CAL only behind Pentucket (16-1) Triton will likely be a top 3 seed in the MIAA tournament and host a round 1 playoff game. Although the season is far from over, Anderson is proud of how her girls have played this year,
"Every Game has been a battle, we just need to play a full 48 minutes and we'll have no problem." 
With one game remaining before the tournament, the vikes are poised to make a deep run.
Leave a Comment
About the Contributor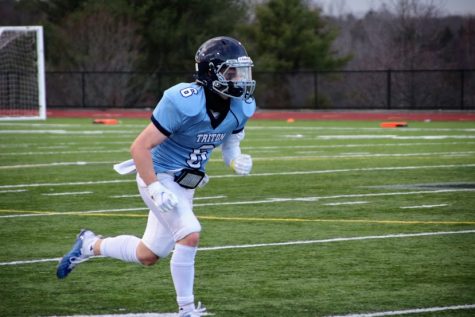 Jared Leonard, Staff Writer
Hi! My name is Jared Leonard, I am a senior at Triton High School. I spend most of my time playing sports and hanging out with my friends. For the school...