Looking Back on the Red Sox's Season
How The Sox have done in their season up until the devastating loss to the Astros.
The Red Sox have had a great season up until their loss against the Houston Astros in their loss of the East-American League. They showed a lot of hope in their season up until the final two games in the playoffs against the Astros, where they lost their total games 4-2. Before this, though, they beat the New York Yankees in their wildcard game, and then the Tampa Bay Rays in their American League Divisional Series. 
"They couldn't lose" said Ms. Stacey Beaulieu, who was rooting for the Red Sox this season. "I didn't know what to expect…" Beaulieu was watching them closely this season, and was fairly disappointed by the loss.
It was looking good for the Red Sox for the majority of the season, and with a world series not too far behind them in 2018, it seemed achievable to many fans of the team. However, this hope was somewhat short lived as they were knocked out of the running in the third round. Despite this, many fans seemed to be most shocked at the wild turnouts of the last games played against the Astros. The Sox trailed behind by one run in the first game, then winning the next two games 9-4 and 12-3 respectively, with a grand slam in the third game, to only scoring one run in the last two games combined.
During the regular season, they won the majority of the home and away games they played, having a record of 92 wins and 70 losses total, being a pretty even split of games won home and away. They really started showing their need to win during their first playoff games against the Yankees and Rays. The Yankees were tied with the Red Sox for wins, and so they were the first game played, with the Red Sox winning 6-2, and then playing the Rays, which were number one in the East division of the American League. They beat the Rays with a total number of games won being 3-1 for the Red Sox, which placed them as number two in the AL East. Then, in their first round outside of their division, they lost to the Astros.
Despite the heartbreaking loss, the Red Sox's prominence in their division and league only bodes well for them next season. With them having won the World Series only three years ago now, it won't be hard for them to be a competitive team next year. Hopefully the off-season is what they need to get back on track, and take the Commissioner's Trophy home.
Leave a Comment
About the Contributor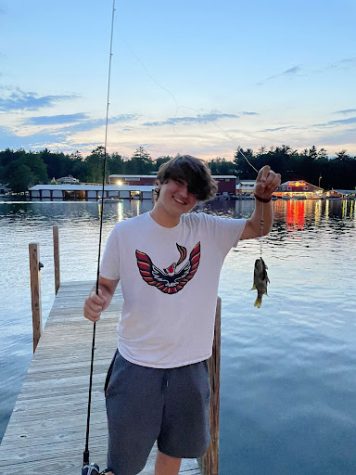 John Serino
Hi, My name is John Serino, and I'm a junior at Triton High School. Currently, I really like playing football and working after school and on weekends....