After COVID-19 Shutdowns, Getting Involved More Important than Ever
What's new and upcoming for the clubs and activities here at Triton High School
Getting involved in school clubs is important to many lifelong skills that apply in and out of school, especially following the COVID-19 school closures. Clubs help show amazing efforts on a college resume, but also form connections with people — something that many students have been missing. 
Lizzy Protopapas, senior co-president of the student council, really pushes the effect of making change. The student council is where most of the changes in the school are decided. 
"Clubs make it so students can get involved and you can make a change if you want there to change," says Lizzy.
During the student council a few years ago, they were able to get rid of the $180 parking fee at triton for students who drove to school. The student council makes decisions on things like spirit week and adding new water fountains with drinkable clean water. 
"Student council is the best club at triton because we make the biggest impact." Lizzy finishes off by stating her views on the student council.
 Student council is very important to the growth and development of the school and what events happen within the school.
Guidance counselor Dr. Erik Champy shares his views on the importance of clubs as a new leader this year of the GSA (Gender Sexuality Alliance). 
"I think the GSA is an important entity on campus. It is imperative that we continue to appreciate people that are different. Lots of good work was done under Jamie Richards and I look forward to working with the students to continue our progress here at triton." says Dr. Erik Champy, the junior guidance counselor. Dr. Champy is also the GSA (Gender Sexuality Alliance) leader who took over former science teacher Jamie Richards' place. 
The GSA club is all for bridging the gaps in the community and makes a point to be sure everyone feels comfortable at the school they reside in no matter what. This is only one of many clubs that help make an impact in not only students' lives but also the communities. 
"As people, we are all connected to communities. We have interdependent relationships whether it be in school, sports, activities, and this is a big part of school life. Students should come in with a sense of concentrating on academics, athletics, and activities. It continues to enrich the high school experience." Dr. Champy adds. 
Community service, GSA, environmental, mental health, and the climate change club are only a few of the clubs that continue to make a step forward in this school. These clubs bring global awareness into perspective for many students, joining clubs benefits you and help create a change.
Ellie Gay-Killeen, a senior community service club member running for president, talks about the importance of clubs and getting involved within the school. It is important to note that clubs can have a big impact on many lives.
"Joining clubs allows you to get more involved with your school and the students who attend it," says Ms.Gay-Killeen
"Community service club benefits the towns around us but is also very fun. You get to do errands with your friends while greatly helping your community"
Dylan Wilkinson, senior co-president of DECA, shares the importance of the club and why students, especially those looking at the business field should join. 
"It is important because it gives students the chance to branch out on extracurricular activities besides sports and lets them further their interests," Dylan says. 
The importance of clubs is not only just for looking good on a resume, it can also help jump-start a passion for a major in college and a career path for later in life.
"People should join DECA because it's a great way to prepare for the business world and is a good club to participate in if you are looking at continuing a career in business," Dylan adds.
Joining clubs benefits the community as well as students; whether it be cleaning up the beach for community service, helping make decisions for dress-up days in student council, finding solutions to problems and creating unity within the LGTBQ+ community, or even creating a business profile to present at Endicott college in front of judges, clubs make a positive impact on schools and students who participate in them. Show some school appreciation and join a club of your interest.
Leave a Comment
About the Contributor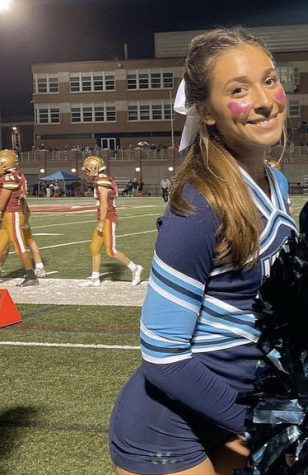 Sofia Savino, staff writer
Hi, my name is Sofia Savino. I am a junior here at Triton. I am a cheerleader here at the school. Outside of school, I work at a Mexican restaurant and...