Rivalry Importance
Sports rivalries could be dying in the coming years
Rivalries could be the next big thing that starts to die out due to all of the social media that everyone sits on today.  There has been some speculation with riluries to see if it is progressively dying or not. 
Triton High School's sports have rivalries with our neighboring town Newburyport, but some sports such as football and wrestling can argue that their rivals are other schools.
Triton Vikings football and wrestling coach Mr. Shawn "Mac" McElligott said that for football Pentucket is our written rival while for wrestling they have North Andover as their rival.  He also said talking about all Triton sports "our biggest rival I would argue is Newburyport."
As a Triton Viking alum, coach Mac knows a ton about our sports programs.  He sees that every player tries extra hard when going up against Newburyport, a.k.a., "Port".  He also said that every game against Port enjoys a fan section and much of the school comes out and supports their peers in hope that they can demolish them.
Triton alum and current Girl's field hockey coach and assistant Boy lacrosse coach Miss Donna "A" Anderson would have to agree with Coach Mac that Newburyport is our biggest rival.
Triton student four-year varsity basketball and lacrosse manager Dylan Wilkinson thinks that rivalries are really important and also has said that Newburyport is our biggest rival.   
Coach Mac proceeded to comment on how he thinks rivalries are beginning to shrink and not be as important as they used to be.  Before sporting events against Port, everyone in school would call the leading up week "Port week".  McElligott said that he believes this has been dying over the last couple of years and hasn't seen kids saying "Port week" anymore.  He is sad about that because he loved the whole week leading up to the big game with all of the hype. He believed this because of the ongoing social media and how it has changed so many things.  It went from everyone not knowing each other before playing to everyone being friends which takes away from the whole rivalry part.  Coach then said, "rivalries have lost their luster."
Miss A on the other hand thinks the complete opposite, she doesn't agree with coach Mac saying that rivalries are beginning to die.  Miss started by saying "I love a rivalry" and continued with "I get fired up."  She disagrees with coach Mac about how more players are becoming friends with the other team and said: "friends can make the rivalry juicier."
Dylan is leaning towards the side of rivalries are decreasing saying because of covid and just in a whole "sports aren't as competitive as they once were." 
With Newburyport being our biggest rival, do you see a decrease in competitiveness and rivalries?
What is the greatest Boston Sports rivalry
Sorry, there was an error loading this poll.
Leave a Comment
About the Contributor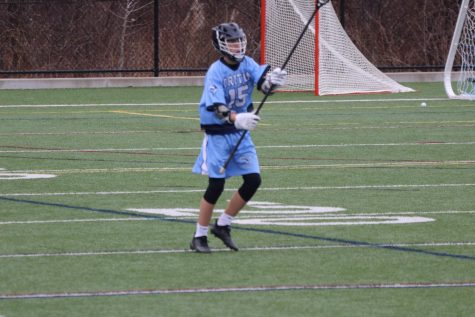 Kyle Bouley, Staff Writer
Hi there! My name is Kyle Bouley. I'm a senior at Triton High School.  I play golf and lacrosse.  I have a brother named Drew and is a sophomore at...