Students, and District Adapt to COVID-19 Disruptions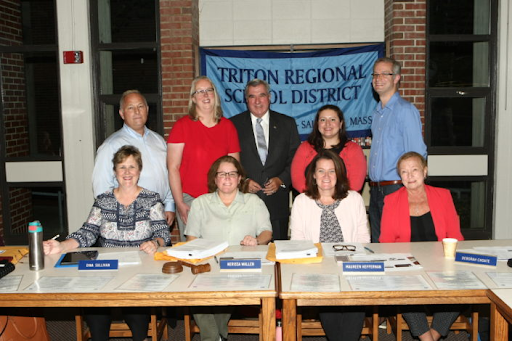 Since COVID has happened, it has played a key role determining if we will stay remote or go into the hybrid model of schooling.
The school board had met at the beginning of this year to see which way we'd start school, since then we've had multiple meetings weeks apart to find out the next change that has to be made.
This year has been disruptive  with all the changes and ups and downs, we've just put all our faith in  the school board.
It is safe to say COVID has been detrimental to decision making this year,  but school wise it has played a key role determining how we are supposed to be doing things. 
Triton  started off this year in a remote model, after the school committee determined in August that this was the safest route. On October 2nd the group voted again, opting in a split 5-4 vote for keeping the schedule in remote. However, the school board had another meeting after a public outcry from parents who demanded the committee reconsider going to a hybrid option, and on October 14th due to high demand, the committee voted 4-5 to go for the hybrid model.
"All these changes have made this year so difficult," said junior Janelle Lanphear. "I feel like every week we are switching into a new schedule or a new way to do things, and it's very confusing."
On November 30, after receiving updates on the recent increases in school cases, the staffing situation, and other factors, the School Committee voted 5-4 to transition the district to a remote model to remote from  Monday, December 7, to Monday, January 4. January 4th will be the date ending remote, and the day the school board will vote again to see what we will be doing for the next month or two in school. 
After asking Principal Kelley if he was happy with the committee's most recent  decision to go to a remote model, he replied "Happy is a tough one, but a right decision based on what we were seeing as a school, student attendance was way down, and was making hybrid very challenging to manage from a teachers standpoint, not structured, students never getting live instruction. Attendance rates were very bad and didn't have enough ppl here to work effectively. Thinking of what would work best for our students, and hybrid was a good option."
Some students  hope that there also may be additional discussion about steps that might have to take in regards to the increased risk of cases near Thanksgiving.  
"I wish we stuck to either remote or hybrid, this year has been so difficult to keep track and I always feel like waiting for the next change."  Junior Izzy Camargo said. 
" I understand the school is doing everything they can do, but it is seriously difficult for us and I feel like no one takes the students opinions into consideration," Junior Angelina Deluca said. 
The decision to not shift to remote was largely due to the low number of positive cases and close contacts within the school despite the increase in community cases according to the triton school board. The decision was made to work toward a COVID dashboard that can be considered on a weekly basis moving forward. This dashboard would be used when considering a longer-term transition. This dashboard includes data for various state measures reported weekly. This will continue to develop the overall format to provide the most relevant and up to date information. In-district counts will be updated immediately as cases are identified so everyone is aware. 
As cases rise in our state, towns, and in our schools, this dashboard will be monitored closely and decisions made based on the data. The data will be checked weekly.
 Two students had opinions on which  model they had preferred
"I prefer hybrid but I do work well in remote," said junior Live Bateman. "If we could come up with a way for the students who liked being in school, and kept the kids that didn't wanna go to school at home, this would be a much easier process." 
There have been  some mixed opinions on this question. Junior Melika Mohit says 
"The remote way has been working very well for me, but I wish we didn't have to keep switching back and forth causing serious confusion, " said junior Melika Mohit.
Leave a Comment