Super Teens on Super Tuesday
18 Year Olds Vote for the First Time in 2020

Loading ...

As a new voter, freshly 18, voting for the first time is a huge milestone in one's life. It's their chance to finally have a say in how the country they live in should be governed. 

As they are handed the ballot and shown to a cubicle they are given the chance to make a difference with just a small little bubble on a paper. 

For many Triton seniors Super Tuesday was the first time they were able to vote, so they were excited to hit the polls with their political views and vote for who they wanted to be the presidential nominee.

"My experience was pretty good," said Triton senior Kaylyn Pesaturo. "Everyone was really helpful and nice and my parents helped me too." Pesaturo turned 18 in October and this was her first time voting. 

Many teens have become very involved in issues such as climate change and gun control. They've attended rallies including March for Our Lives, which was mainly led by the youth who survived the Stoneman Douglas school shooting, as well as climate change protests all over the country.  It's no wonder that teens want to begin voting as soon as they can. 

According to the article "Voter Turnout Rates Among All Voting Age and Major Racial and Ethnic Groups Were Higher Than in 2014" by Jordan Misra, "Among 18- to 29-year-olds, voter turnout went from 20 percent in 2014 to 36 percent in 2018, the largest percentage point increase for any age group — a 79 percent jump." The amount of teens who have begun voting in the last ten years has gone up massively meaning that politicians have also been gearing much of their campaigning towards that age group. All of the politicians running for president this year have Instagram, Facebook, and Twitter accounts. 

However not all students will have good experiences at the polls.  

"It was really awkward at the polls no one helped me even after I said it was my first time, I felt out of place," said Triton senior Bridget Tucker. "I think it's funny boomers want to yell at young people for not voting but then give them a difficult time when they go to vote." Although most people are happy that young people are voting there is also some tension between the gen z and the baby boomers which has caused "boomer" memes to circulate the internet poking fun at the baby boomer generation and their behaviors and political views. 

"I'm voting because I realize how important it is to put your vote in," said Triton senior Emily Howe. Howe and other 18 year olds have all been able to voice their opinions in the 2020 elections, but we will have to wait and see how their votes influence the outcomes for the presidential nominees.
Leave a Comment
About the Contributor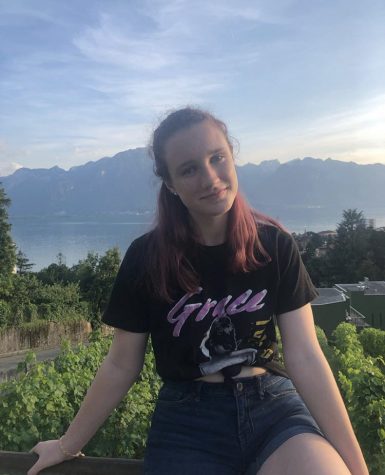 Marcella Hubbard-Brucher, Staff Writer
Hey! My name is Marcella Hubbard-Brucher. I'm a senior at Triton High School. Inside school I play the flute in the Concert Band and sing in the Singers....