Are Smartwatches Giving You Smarter Choices?
Two very different but popular smartwatches give the term watch a whole new meaning
You see older generations with a watch primarily for telling time. But there's a new era, which can contain a heart monitor, and how many steps a person takes a day. How loud the environment is in decibels, this watch could change your entire way of living. 
Since the Apple Watch came out in 2015, there's been 5 different series of watches released, one of them being a partnership with Nike, and together the companies released several different types of watches. Apple works exclusively with the NikeLab to create Nike wristbands to accompany the watches. They even released a limited edition NikeLab/Apple Watch. 
These watches are the "best smartwatch on the market" according to iMore, a watch review website. You can make phone calls from your wrist, monitor your position with an onboard GPS, connect to your phone to show text messages, and even talk to Siri and play music. 
In competition, there's the Fitbit Versa 2. This watch has a touchscreen, and has similar features to the Apple Watch. It comes with customizable face watches, on-screen workouts, women's health tracker, and 4-day battery life. This watch in comparison to the Apple Watch drops significantly in price. It runs at about $159 on Amazon, whereas the Apple Watch runs at about $385 on the same website. This should be a major factor to help encourage your decision on what you want and need. 
If you're trying to decide which one is really meant for you, the price should be enough to help, but the Fitbit Versa is more fitness focused. This watch has a constant heart rate monitor, step tracking, sleep tracking, and an automatic workout recording. It connects to Fitbit coach which is a personalized training app which gives you instructional videos on proper workouts and audio coaching.
My mom uses her Fitbit for everything. In the mornings, she'll ask Alexa to set her a reminder to leave work at a certain time and to not stay any later. Reminders to go to the store to grab specific groceries for dinner. This is not to mention how competitive she gets with herself when she notices she did fewer steps one day than the next. "If I see that I've done fewer steps than the day previous, I'll tell myself I need to break 10,000 steps, or at least get 1,000 more steps than before."
The Apple Watch, on the other hand, brings a whole new species of watch to the table. It has almost everything you could think of on it. But this watch is primarily smarts, with the bonus of having workout and fitness trackers. These watches allow you  to get directions, use the internet, and send and receive text messages without having to glance at your phone for a second. As of September 22, 2017, Apple has also released a watch with GPS plus cellular, which gives you the opportunity to use your watch without even needing your phone. 
Personally, the Apple Watch has given me shocking details about my health. Especially the ECG monitor. To use it, open the app on the watch and place your fingertip on the crown for 30 seconds. It tells you what type of heart beat rhythm you have. A normal heartbeat rhythm is a sinus rhythm. 
Another feature that always and still does shock me, is The Noise app. This tells you how loud your environment around you is in decibels. When I drive home every day, I blast my music. I'll feel my wrist vibrate and it warns me that if I stay with the 90+ decibel environment, then I could have long term damage to my ears. Scary isn't it?  
Comparing my series 5 Apple Watch to my moms Fitbit Versa 2, you can immediately see the display is much more clear on the Apple Watch, it's easier to see the icons, and you don't have to swipe as much. Although, looking at the Apple Watch you see so many that you don't really know where to look, whereas the Fitbit keeps it straightforward and simple. You swipe down and see straight away your progress for the day, and how close you're getting to your goal. 
For the Apple Watch, you have to find your fitness app, then be able to view your progress. Personally, I'll always choose the Apple Watch over the Fitbit. It allows me to put navigation on my watch without having to pick up my phone while I'm driving. It vibrates when a turn is coming up, and with the crown it allows you to zoom in and out of the map to see the area around you without taking away from your driving completely, but I am not encouraging to use your watch while driving. 
My mom isn't crazy about gadgets, but when it's simple but cool, she'll take it. "I like the Fitbit because it has all I really need. I don't need all the excessive apps and tools to know how many steps I got in a day."
In the end, it all comes down to what you personally want. Whether you want to spend $159 to just track your fitness, and have limited access and less distractions, or have the style for $385 and availability to text, and call with perks of tracking fitness. 
Leave a Comment
About the Writer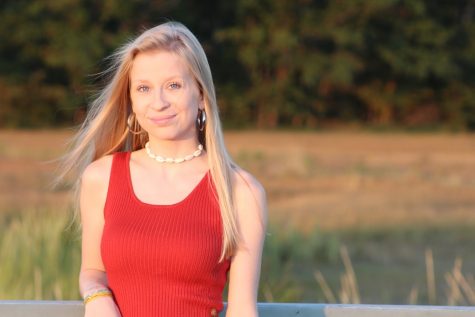 Emily Howe, Staff Writer
 Hi, my name is Emily Howe and I am a senior at Triton High School. I am currently an assistant manager at Market Basket, which made me realize how much...